Your Ideal Week
Do you struggle with balancing your many commitments?
Do you feel frazzled and frustrated at the end of a week, being pulled in too many directions?
Maybe… and I say this gently and with great care - and without knowing your truly unique and special situation… maybe you just have too much on your plate. Maybe you're feeling like I am, like your plate is stacked too high. Maybe you're overwhelmed. If so, I challenge you to do something about it.
The Challenge
Consider spending your time like you would spend your money – careful and with intention.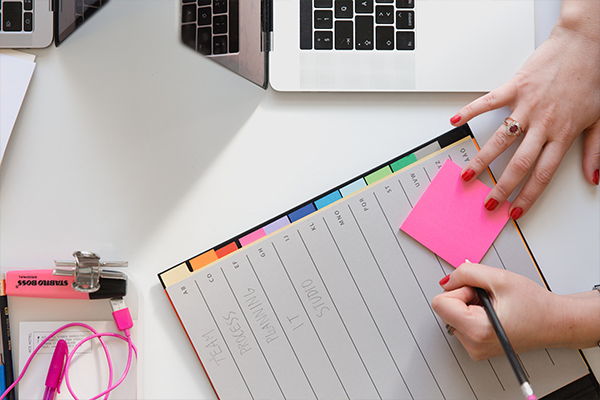 In my career, I consult with college students and Student Affairs professionals about the steps they take each day toward success – whatever that means to them. A common theme is time management and organization. Recently, I came across this concept of spending time like money – carefully, and with intention. The idea is relatively simple: decide how much time to spend in certain areas, and adjust our time "budgets" accordingly.
This idea isn't about cramming more activities into your day, but rather to evaluate what is important to us, and then cut the rest. The advantage: You spend a few minutes to evaluate what is important to you, what's working and what isn't. Then, YOU get to decide what and when and with whom you spend your time.
Take a moment to reflect on these prompts:
What are your goals and priorities? (i.e. family, relationships, mental wellness, career)

What are your must dos, commitments, obligations? (i.e. work, home upkeep, volunteering, continuing education)

How else do you spend your time? (i.e. social media, sleeping in, coffee dates, TV binges, exercising, commute)
Were there any major differences between your goals and priorities, and how you spend your time? Are there any areas you identified you would like to have more time for in your life? Are there any areas areas that you would like to cut out, permanently or for a season?
As you consider these questions, begin to fill in your "Ideal Week" using the template provided. Use this as a reminder of what is important to you, and how you aim to budget and spend your time. As your goals and priorities change, update your "Ideal Week" template to reflect those changes.
We all get 167 hours in a week, no more and no less. How will you choose to spend yours?
Report Participation
Document your participation in A Clear Vision of Life: The Wellbeing Program and be entered to win a Challenge incentive! Click here to let us know you participated in this Challenge.