Vote Like an Alpha Xi Delta!

Join with your Alpha Xi Delta Sisters, Democracy Works and Turbovote to register to vote, apply for an absentee ballot and stay up to date on upcoming election dates!

The Challenge

Sign up with Alpha Xi Delta Votes!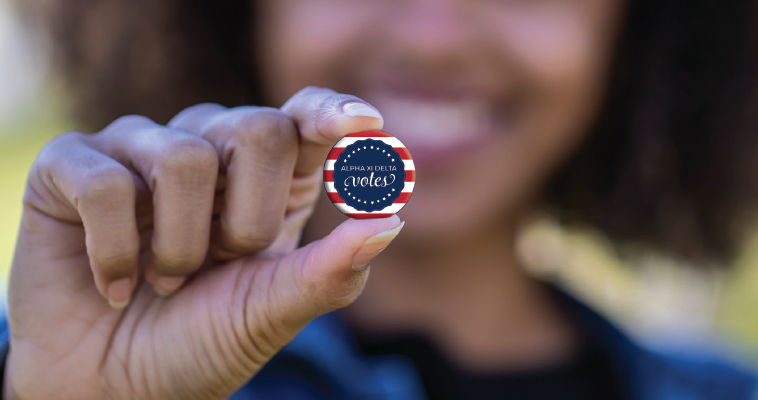 Womens' suffrage activist Susan B. Anthony said, "Someone struggled for your right to vote. Use it." Join your Sisters in exercising that right by registering with Alpha Xi Delta Votes. Alpha Xi Delta Votes is a collaboration with Democracy Works, a non-partisan and non-profit organization that provides Turbovote to our collegiate and alumnae members.
Turbovote can help you register to vote, request an absentee ballot, answer voting questions, provide polling locations and remind you of election dates and deadlines by text or email. The best part is, the registration is simple, quick and free. Turbovote is completely non-partisan and will not send you information about candidates or policy.
Be an active participant in our country's future by registering today with Alpha Xi Delta Votes!
Tools Needed

A computer with internet. A printer for forms may be necessary in some states.

Let's Get Together
After you register, pass this link on to another Alpha Xi Delta Sister and challenge her to do the same!
Report Participation
Document your participation in A Clear Vision of Life: The Wellbeing Program and be entered to win a Challenge incentive! Simply fill out the form below to report your participation!