"Fall"ing for Back-to-School
The transition to fall includes, preparing for back-to-school and in some cases, navigating new sales hitting your email inbox. Learn more about making the most of back-to-school shopping, even if you're not a student, and how to resist the urge for unnecessary purchases.

The Challenge
Try any or all of the four recommended tactics for back-to-school shopping and not "fall"ing for sales.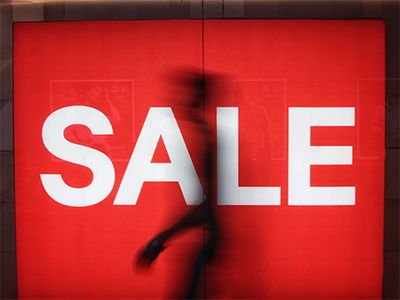 Once August and September hit, all attention is directed to the back-to-school ads and influx to your email inbox regarding sales. It is important to manage your Financial Wellbeing by making the most of a bargain, but not bombarding yourself with purchases, just because of a sale.
1. First, consider if you actually need to make a purchase.
When it comes to back-to-school shopping, it is important to wait until the list of school supplies is provided. By waiting you are confirming what are actually the necessities versus "nice to have." items
The same goes for navigating the sale ads in your email inbox or local newspaper. As something sparks your interest, count to 1,200. That's right, give yourself about 20 minutes to work through the excitement of the sale item and reflect if you should actually hit "buy."
2. When reviewing the back-to-school list, make a note of what you already have at home.
Are there any items remaining from last year's collection? If so, there's no need to purchase more.
That goes along with not giving into the "hype," of products flooding your social media pages and ultimately in your email inbox. Companies make the most of marketing tools, like encouraging a sense of urgency around items and emphasizing limited quantities. Similar to the school supplies, do you already have it? Do you really need it?
3. Are there opportunities for bulk purchases? When planning for back-to-school purchases see how many of the items you may need. You may be able to buy items in bulk, which ultimately lessens the cost per item.
If possible, split the larger cost with another family, that way you both benefit from the lower cost per item. The same goes for the sale advertisements for "BOGO" or even "Buy One, Get one 50% Off." Depending on what the item is, consider asking a friend to split the cost with you so you both end up with a bargain on items you are looking for - this works out well for shoes, grocery products, or even technology.
4. You have a budget, right? Stick to it.
This is important for school shopping or any purchases you may be eyeing. Sometimes that may mean waiting to make a purchase, but here are some recommendations for what to shop for now versus later regarding back-to-school:
Buy school supplies like paper, pens, etc. now because stores are using their lowest prices of the season to lure you into their stores.
If your budget is capable, purchase summer clothes now as the season comes to an end.
Generally, wait on heavier clothing and on technology because those prices drop as it gets closer to the holidays…. Black Friday, anyone?
Report Participation
We have made it easier for you to document your participation in A Clear Vision of Life: The Wellbeing Program and be entered to win a Challenge incentive! Just fill out the form below!