Budgeting for Charitable Giving
Do you ever feel guilty for saying "no" when a friend or Sister asks you to donate to a charitable cause? Do you wish you could give money to relief efforts after a natural disaster strikes, but don't have the means to do so? Read through the challenge below and think about how you can create a charitable giving budget.

The Challenge
We all hear the call to donate to charity at some time or another. As Alpha Xi Deltas, being a philanthropist is part of who we are! But financially, we may not always be ready to give when asked. This challenge is aimed at helping you plan in advance for charitable giving throughout the year so your financial contributions can have the most impact.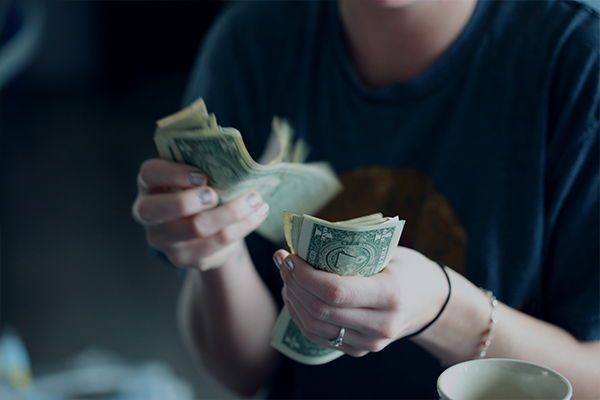 When budgeting for charitable giving, first consider why you give. Are you contributing to organizations based on your personal beliefs? Or do you give to charities that are close to your heart? When deciding where to donate, you might consider what Susan Bulkeley Butler, Purdue '63, asked in "Women Count: A Guide to Changing the World":
Are you giving in a purposeful way to make specific change happen in your community or in the world? Are you giving in a way that spurs others into action?
Remember to give strategically. Decide what amount you will be able to donate throughout the upcoming year, then split that up among the different charities you like to donate to (if you give to more than one). You may already have a target amount in mind, but if you don't, look back at last year's charitable donations as a starting point. Will that amount be feasible again this year? Are you able to give more?
Things to consider:
Do you want to give a set dollar amount versus a percentage of your income?


Do you want to donate one lump sum? Or would you prefer to set up a recurring monthly donation? If you're taking advantage of an employer's policy of matching donations, this may dictate how you schedule your donation.


Don't forget about incidental gifts! We all have that coworker who sells Girl Scout cookies for her daughter, or feel the urge to donate after a natural disaster. Planning in advance for these requests can make it easier to say "yes" when asked.


Earmark a little bit for charitable giving whenever you get a raise or a bonus at work. Even if you only give a small amount, over a longer period of time, it can add up!
Lastly, don't underestimate the importance of loyalty. Organizations rely on continued gifts. Lifetime giving can make a huge difference over time. Think about the impact a steady $25 annual gift can have over many years versus a one-time $100 donation.
Tools Needed
None!
Get Together
Try reaching out to a neighbor or coworker for a "donation agreement": Instead of buying what each of your children are selling ("I'll buy your son's wrapping paper if you buy my son's popcorn"), propose to instead write a check directly to your child's school for a more meaningful donations.
Alumnae associations: Consider asking a Foundation representation come to a meeting and give a presentation on the types of giving options available to Sisters and how their donations are helping Alpha Xi Delta grow.
Report Participation
We have made it easier for you to document your participation in A Clear Vision of Life: The Wellbeing Program and be entered to win a Challenge incentive! Just fill out the form below!