The Foundation provides significant funding for leadership and personal development programming. By giving to the Alpha Xi Delta Foundation, you make Alpha Xi Delta a great national Fraternity and help inspire young women to realize their potential in leadership, knowledge and service. The Alpha Xi Delta Foundation is a not-for-profit corporation under section 501 (c) (3) of the Internal Revenue Code. Gifts to the Foundation are tax deductible to the donor as allowable by law.
Donations to the Foundation can be made online, by phone at 317.872.3500 or mail to:
Alpha Xi Delta Foundation
PO Box 6069 Dept. 80
Indianapolis, IN 46206-6069
Additional Giving Options:
E-Xi Give
E-Xi Give is a recurring gift that you set up with us to be made on a consistent basis (monthly, quarterly, or annually) to make your gift giving easier for you. When you enroll, your gift will automatically transfer from your checking account or be billed to your credit or debit card. You determine how much and how often.
Matching Your Gifts
The impact of your gift may be doubled or possibly tripled! Some companies match gifts made by retirees and/or spouses. To find out if your company has a matching gift policy, check with human resources. Matching gifts do count toward your cumulative giving level. If you are doing a matching gift, please be sure that the company includes the member's name on the giving information, so the gift may be recorded properly.
Stocks & Other Securities
Stocks and mutual fund gifts are another great way to give. Not only is the gift tax deductible, but you may also avoid capital gains on the security.
It is important that you contact us so that we can assist you with transfer instructions. If you own securities in a brokerage account, we can help you set up an electronic transfer of the shares to our brokerage account.
Giving Levels and Donor Recognition
The Alpha Xi Delta Foundation is pleased to honor alumnae and friends who reach certain levels of giving. Donors are recognized by cumulative giving levels in the online summer/fall issue of The Quill.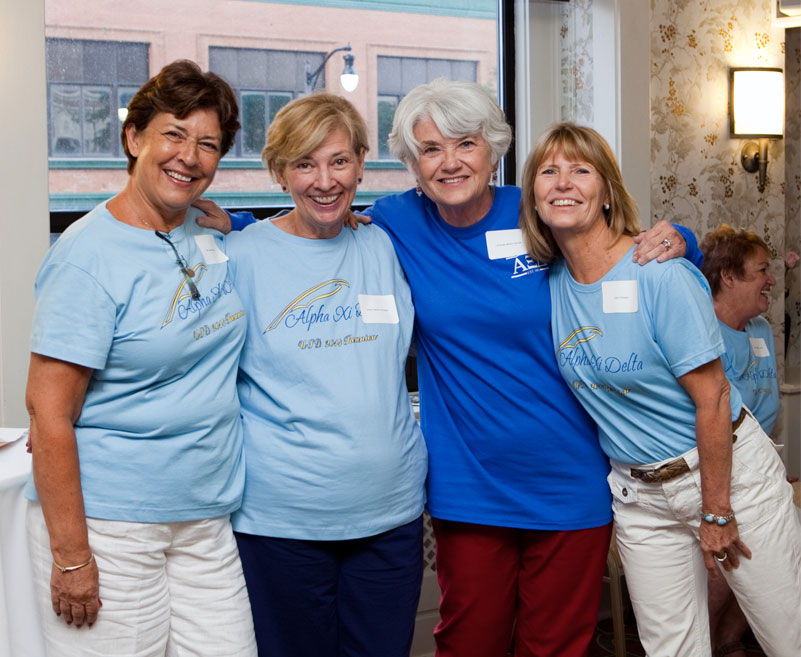 Annual Giving Circles
Anniversary: $1 for every year since Alpha Xi Delta's Founding
Rose: $250
Pearl: $500
Mary Burt Nash Society Donor Level
Quill: $1,000
President's: $2,500
Cumulative Giving Circles
Sisterhood: $1,000
Founders': $5,000
Lombard: $10,000
Symphony: $25,000
Heritage: $50,000
Cora Bollinger Block: $100,000+
Heart Sunshine Circle
The Heart Sunshine Circle is an annual giving society exclusively for collegiate members who make an annual gift of at least $18.93 to the Foundation during the fiscal year.
Mary Burt Brooks Nash Society
The Mary Burt Nash Society recognizes leadership donors who support Alpha Xi Delta Foundation by giving a minimum of $1,000 annually. All unrestricted and restricted gifts count toward Mary Burt Nash Society recognition. Society members are recognized in The Quill and during National Convention, and they receive invitations to special events and ongoing communications about the impact of their philanthropy.
If you want to know more about any of the above opportunities, please email foundation@alphaxidelta.org.