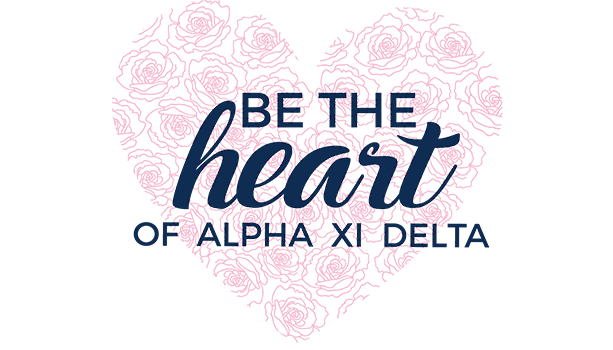 To support Alpha Xi Delta in continuing to perpetuate fraternal growth while providing opportunities to foster intellectual, professional and personal growth for all Alpha Xi Delta Sisters, Be The Heart, the National Alumnae Dues Program was created. We encourage you to Be The Heart of the Fraternity. By annually supporting the Fraternity with your $25 alumnae dues payment, you allow the heart of Alpha Xi Delta to shine for years to come.
Your dues will be valid from the date of payment until May 31. We encourage all alumnae Sisters to renew their commitment annually on June 1. If you have questions, please email Courtney Fluty, or call 317.872.3500.

If you are an alumnae association that wishes to pay your dues via eCheck online, please click here.
As a benefit of membership, all Alpha Xi Delta alumnae receive:
Three issues of The Quill of Alpha Xi Delta annually.

Six alumnae enewsletters

Access to Exclusively Xi, Alpha Xi Delta's members only portal.

Personal development opportunities through A Clear Vision of Life: The Wellbeing Program.

Exclusive discount rate on insurance policies with GEICO

National alumnae dues fund initiatives that bring into living reality the Sisterhood of women, such as:
Technology advances to connect Sisters like the Lost Sister Search tool.

Alumnae programming, support and cultivation.

New chapter establishments on new and dormant campuses.

Volunteer cultivation, education and training.

Awards for alumnae Sisters and alumnae associations.

Recognition for Order of the Rose, Pearl and Diamond Sisters.

TEN: The Empowerment Network, Alpha Xi Delta's mentoring program