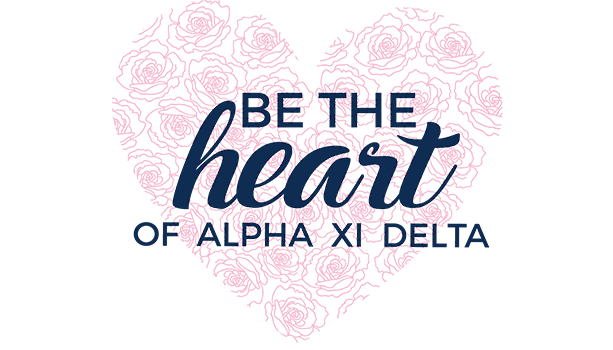 The heart of Alpha Xi Delta is strong. At its core, our Sisterhood is where women have a deep bond of unity, friendship and support for a lifetime. And it's made possible because of Sisters like you.
Now more than ever, we need your help to allow Alpha Xi Delta to continue her mission of inspiring women to realize their potential. By paying your national alumnae dues, you will be supporting the Fraternity's mission in continuing to grow Alpha Xi Delta, providing professional and personal growth opportunities to Sisters and supporting.
Become a Be The Heart member today! Your $25 payment will be valid from the date of payment until May 31. We encourage you to renew your commitment annually on June 1. If you have questions, please email Courtney Fluty or call 317.872.3500. If you are a member of an alumnae association, please scroll all the way down to the bottom of this page.
As a Be The Heart dues-paying member, you receive:
Xi Boutique offers and discounts.

Exclusive Be The Heart enewsletters with special messages from Alpha Xi Delta's National President, digital Alpha Xi Delta swag to promote your pride in the Fraternity, and more!

Invitations to Wellbeing Wednesdays, virtual events centered around challenges included in the A Clear Vision of Life program.
National alumnae dues fund initiatives that bring into living reality the Sisterhood of women, such as:
Technology advancements to connect Sisters.

Recognition for Order of the Rose, Pearl and Diamond Sisters to celebrate and honor our Sisters who have been members for 50, 60 and 75 years.

Awards for alumnae Sisters and alumnae associations to encourage excellence.

Volunteer cultivation, education and training to ensure our chapters and associations are supported and can continue to thrive for future generations of Alpha Xi Deltas.

Alumnae programming, support and cultivation like the A Clear Vision of Life Program.
Alumnae Associations
Alumnae association members are also recognized as Be The Heart members when their national dues payment is received through their association. If you are an alumnae association that wishes to pay your dues via eCheck online, please click the button below.
This echeck form is to be used by alumnae associations to remit $25 National Alumnae Dues on behalf of local association members in conjunction with the submission of the Alumnae Association Annual Report.
Please provide your contact information and the name of the alumnae association for which you are submitting dues. Please type in the association name in the "Company Name" field.
The total payment amount should match the number of dues paying members on the association roster. For example, if your association has 20 dues paying members, your total payment amount due ($25 X 20 Sisters) is $500.00.