Budget-Friendly Activities in Your Community

With the return of warmer weather and a "new normal," many of us are looking for ways to get out of the house and find things to do in our communities. However, the state of the current economy has led many of us to be more budget-conscious and seek out free or inexpensive options. There are a ton of options out there, they may just be a little harder to find. Keep reading to find out how you can find free or cheap things to do this summer in your area.
The Challenge:
Find free or inexpensive things to do in your community.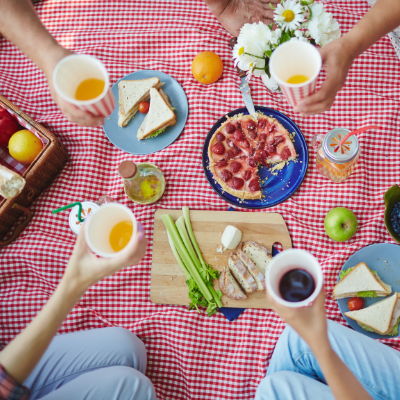 Sometimes, you just have to know where to look to find free or inexpensive events or activities in your community. With a little bit of research, you can find lots of options that meet your interests and fit your desired physical activity level.
Community Calendars and Websites.
Many towns and cities keep a community calendar of upcoming events on their website or even offer a whole section of the website dedicated to things to do in the area. This could be anything from free outdoor concerts or movie nights to farmers markets, to local fairs or festivals. The local parks and recreation department also likely offers one-time, ongoing classes or events at little or no cost to you.
Local Colleges and Universities.
Colleges and universities often offer free or inexpensive activities for the community to participate in—concerts, festivals, lectures, sporting events and more. Visit the website of your local college or university to learn more about upcoming events and activities.
State Tourism Website.
Your state or city tourism website can contain a wealth of information about free things to do. From arts and cultural events, to museums, to state and national parks, to concerts, to sporting events, they have something for everyone.
Local Library.
Your local library doesn't only provide you with free books—it provides free programs as well! Libraries often offer story time for kids, as well as arts and crafts programs for all ages, and informational workshops—everything from how to use certain computer programs, to free legal advice, to how to file taxes—for adults. Check out your local library's website for the most up-to-date offerings.
Hardware and Home Improvement Stores.
Did you know that many home improvement stores, such as Home Depot or Lowe's, offer free workshops? Now you do! While there are a variety of live and on-demand online workshops offered, some stores are returning to offering in-person workshops as well. Check out your local hardware or home improvement store for more information about workshops for both children and adults. Now is a great time to tackle that DIY home improvement project you've been thinking about!
Create Your Own Fun.
Sometimes we forget about the obvious options or don't think about ways that we can create our own fun. Do you live near the ocean or the lake? Have a beach day. Do you live near a state or national park? Go on a hike. Do you have a large yard or live near a public park? Get some friends together for a day of lawn games or kickball. Volunteering is also an option—take some time to give back to your community by volunteering for your local library, food bank, park, school, or other area of interest to you.
Online Blogs and Other Websites.
Still feeling a little lost? Here are some other blogs and online resources to help you explore options:
Let's Get Together
Attend a free concert, festival, or other event with your alumnae association, group of friends, or family.
Report Participation
Document your participation for this challenge by filling out the form below. You will be entered to win a Challenge incentive!