It's Not Old, It's Not New--Something Local Just for You!

Connecting with your community through food is a traditional way of survival and also a sustainable way to support your local farmers and producers. But when the weather turns colder in most of the states, and the markets close up for the season, how do you continue to engage in your community through sourcing local items?
The Challenge
Think outside the box (box store that is!) and uncover how you can continue to support your local producers for consumable items.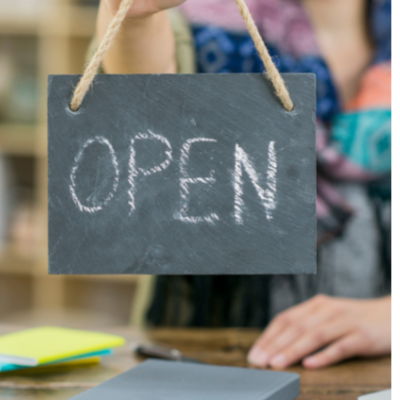 In recent years, Small Business Saturday (the Saturday immediately following Black Friday) has taken off. That's because more and more people are appreciating the value that small business adds to their communities. The same is true for the small operations that produce goods for those businesses or sell direct to the consumer (you!).
However, it can be hard to identify who does and sells what when you're needing something specific on your list. You will likely need to be more intentional by identifying some of your needs in advance and seeking out the suppliers. You are more likely to break your habit of running to the store and instead purchase from your local producer.
Meat and Dairy: Eat Wild is operated by investigative journalist and New York Times bestselling author, Jo Robinson. Her website offers a state-by-state (plus Canada!) directory of local farmers who sell their products directly to consumers.
Sweet as Honey: Interactive maps make it easy to find an apiary near you! Search by state and even zip code to source honey local to you. This website will help you find a sweet addition to your morning tea or quell a pesky cough, but local honey is also believed to help mitigate seasonal allergies! Also…yum!
Coffee Roasters: The best part of waking up is Folgers in your cup!... or is it? The Folgers coffee jingle could live rent-free in your head all day! Once you get in a habit it's hard to break—but buying locally roasted coffee is a treat that you deserve! It also makes a great gift for a host (think holiday travel season!)—just take note of if you need it to be ground or if you think they'd prefer whole bean! This list has all US states, Canada AND the United Kingdom!
Other things to consider buying from a vendor near you…candles, syrup, soaps, baked goods, craft beer from a local brewery or wine from a local vineyard. If you're in a locally-owned shop and you see something that says "made locally!" take time to check the label and jot down the information. Chances are a simple Google search will help you find them. Don't hesitate to chat up the shop owner too! If they are supporting local artisans they are likely to have info on the product.
Supporting your local food producers is pretty easy to do in the summer months when the growing season is at its peak, but when the weather turns cooler, there are still plenty of ways to buy and eat local. Use some of the resources in this challenge to seek out ways to support your growers and providers, and don't shy away from engaging in a conversation about what makes their products unique to your area!
Let's Get Together
Who doesn't love bee-bopping around a quaint downtown or city district with friends! Plan an afternoon and map out what local stores you want to hit up. Use some of the websites in this challenge to help you identify where you can purchase what locally-produced items.

Report Participation
Document your participation for this challenge by filling out the form below. You will be entered to win a Challenge incentive!