Do This, Not That: Sunscreen Edition!
Do you know what you're putting on your body? You might! But, what about how it impacts the environment? Find out about this and more in the Do This, Not That: Sunscreen Edition Challenge!
The Challenge:
Get a better grasp on what type of sunscreen you're using and the potential implications it has on you and others. Make a change…or don't! It's up to you, but knowledge is power when it comes to informed decision-making.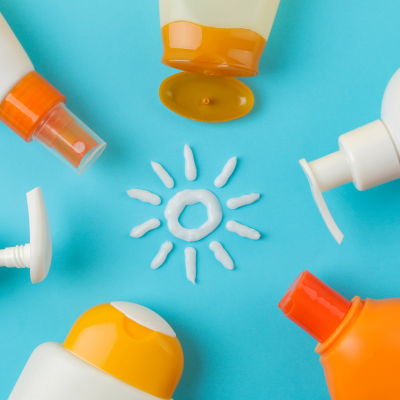 I recently started a new professional role, and got involved in one of the affinity groups within the company. After a meeting that I was unable to attend, the group sent out notes which included "coral reef safe sunscreen options". To be honest, as more of a mountain gal, I had never given any thought to how my sunscreen choices would impact our world's oceans. However, this summer, we were taking a trip to the beach for the first time in almost seven years, so I popped open that link and dug in! What I found was helpful and easy to understand, and the more you know–the better decisions you can make for yourself and those you care about.
This article spelled things out in a way that was easy for me to understand. I was most surprised to learn that Hawaii is in the process of banning some sunscreens with chemicals known to harm the reefs. In true TLDR (too long don't read) fashion, there are two chemicals, often found in sunscreen you should consider avoiding to help protect our oceans:
Oxybenzone which when absorbed can have an effect on the growth and reproductive cycle of Corals
Octinoxate is known to cause coral bleaching.
Of course, there are other considerations most people face when choosing any products for themselves or their loved ones. Cost is a factor, as is access and ease. Each person needs to weigh what works for them and their circumstances.
For me and my family, we bought my favorite reef-safe sunscreen Blue Lizard for when we went to the beach and that's all we used. However, when my kiddos are at outdoor summer camp all day long–we pick up what is at a big box store and call it a day. We do what works for us–trying to balance a number of factors.
We use Blue Lizard, but a few others the article suggests are:
At the end of the day, what you put on your body matters. For my family we buy the pricier sunscreen when we are by the ocean and the "normal" stuff when we are at home. That's our "do this, not that". We DO choose to learn what we can about our potential impact. We DON'T always make the best decisions…but we try to find a balance.
Sun protection is increasingly important to maintain health, and the more we learn about safe ways to do so, the more information we can access to help us make choices that make sense for us. Our coral reefs are being impacted by the decisions we are making. The impact they have on the health of our oceans is a factor for all of us to consider as members of the global community.
Tools Needed
Check out the article and maybe Google some additional sources as you learn more about the potential benefits and potential harms that come from using (or not!) specific brands.
Report Participation
Document your participation for this challenge by filling out the form below. You will be entered to win a Challenge incentive!