Connect with a Mentor on The Empowerment Network
The summer is a great time to network! The Empowerment Network (TEN) is Alpha Xi Delta's mentorship platform where you can connect with Sisters to find a mentor/mentee, learn from one another on the discussion board, and browse resources.

The Challenge
Register for TEN! Be a mentor, find a mentor, browse the resources and stay connected! Follow the simple steps below to get started with this incredible resource.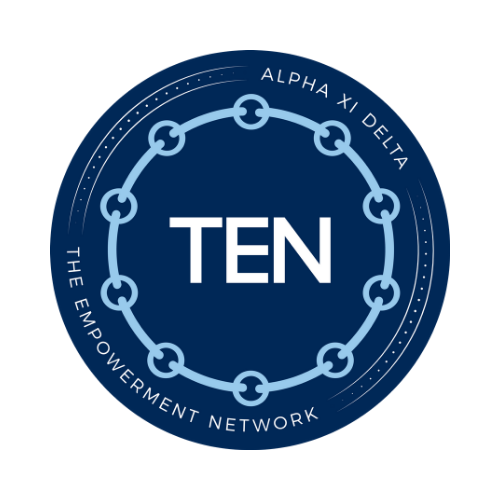 Whether you are a collegian, a young professional or retired, or a stay at home parent, The Empowerment Network (TEN) is for you! The name TEN was chosen as a nod to the women who started it all – our ten Founders. Alpha Xi Delta's Founders taught us the value of education because it frees us to achieve our goals and gives us the power to be whatever we choose. They taught us to support one another through shared experiences and understanding, and because of them, Alpha Xi Delta continues to inspire countless bold and talented women to realize their potential every day.

Simple steps to get started:
1. Register for The Empowerment Network: This is the first step to connecting with your Sisters! Alumnae and collegians can register on TEN here. Dues-paying alumnae are eligible to create a profile in TEN.
2. Create your Profile: It's important to complete your profile so collegians and alumnae can see your experience, education, and areas you can provide guidance. The more information you include, the more likely you are to be matched with a mentee!
3. Connect with Mentors/Mentees: Did you know alumnae can also request a mentor? After logging into TEN, select "Find a Mentor" to browse alumnae to find a match for you. You can search for alumnae using various filters such as location, college major, career industry, and more! Once you've found an alumna who may be a good fit, you can select "Let's Connect" to choose a form of communication: request a meeting or send a message. As a note, alumnae cannot see collegian profiles unless a collegian reaches out for mentorship. Make sure to check your inbox regularly.
4. Browse Resources: If you select "Resources", there are various documents that can support you in your mentorship experience. One of the most helpful resources is the "Mentorship Game Plan" which lays out an action plan and timeline.
5. Post on the Discussion Board: The discussion board is a great tool for connecting with sisters and sharing knowledge without a long-term mentorship commitment. From articles to questions, we encourage you to share your expertise with other Alpha Xi Delta Sisters across the country!

Tools Needed
A profile on TEN!

Let's Get Together
Reach out to other alumnae Sisters to encourage them to sign up, connect, and engage on TEN. If you're a member of an alumnae association, consider hosting a mentorship event or promoting TEN in your region.
Report Participation
Document your participation for this challenge by filling out the form below. You will be entered to win a Challenge incentive!