Connecting to Your Community Through Community Theater

Looking for a fun and artistic way to meet people and make new friends in your community? Try getting involved with your local community theater! This challenge is designed to have you tap into your creative side as a way to connect with your local community.

The Challenge

Do you have the acting bug? Your local theater may be a way for you to build community while engaging in one of your hobbies. Even if you aren't an actor, or even the least bit artistic, read through this challenge for ideas on how you can connect with your community by becoming involved in your local community theater.
*In April 2020, this Community Challenge was written when the world was quickly responding to the COVID-19 Pandemic. As you can imagine, according to the CDC guidelines and recommendations to stay home, this Challenge was not released. Almost 18 months later, we are excited to share this Community Challenge and encourage you to learn more about Community Theaters. However, COVID guidelines look different across the country right now. We encourage you to continue following national, state, and local guidelines.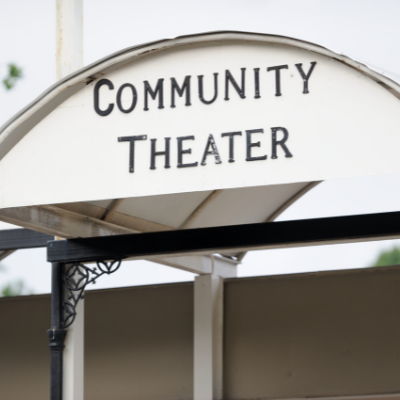 Many cities have community theaters – non-profit organizations with actors who produce plays for fun. They offer a more relaxed environment in which members of the local community can attend theatrical or musical productions. Community theater can be a fun way to build relationships and connect with your community! If you love acting, or even if you have never acted but always wanted to try it, auditioning for a part in a community theater production can be an exciting way to make new friends.
You don't have to be an actor to get involved with community theater. Many community theaters do musicals, which means they need musicians for the band or orchestra. If you're a singer, you may be able to join the theater cast as part of the chorus.
Not an actor or a musician? You can still get involved! Community theater may offer opportunities to be involved through volunteering. Theater volunteers fulfill roles that are essential to helping the theater run: by taking tickets, seating attendees, selling ads for the playbill, painting (or building) the set, sewing costumes, joining the tech crew, or even doing the actors' hair and makeup. Community theater is not just for thespians – it is a community of people with a lot of different skills. The added bonus of volunteering, instead of acting, is that you can see a great show while doing something good for your community. Some community theaters run a theater camp in the summer, which may also offer volunteer opportunities for those who have minimal time to give.
If you live in a smaller community without a local theater, you may still be able to get involved through a local school. High schools, middle schools, and even elementary schools tend to produce plays or musicals every year. At the middle and high school level, volunteers will likely be needed to help build sets and sew costumes. The productions with younger thespians are more likely to need "minders" to help with snacks and keeping the children focused on being onstage and staying interested. A local church may also offer the opportunity to get involved with a theater production.
*COVID-19 guidelines in your area may restrict your access to live theater, or it may limit your comfort to attend. How else can you support your community theater program if attendance isn't an option? Make sure to follow your local theater on social media to uncover how you can still reap the benefits of this awesome asset even if it's not in person.
Tools Needed
The Internet, so you can research community theaters near you.
Let's Get Together
Organize a theater night for you and several sisters. Find a production at your local community theater that you'd like to attend. Make a night of it – buy the tickets in advance and meet for dinner before or after the play. This can also be a great alumnae association event!

Report Participation
Document your participation for this challenge by filling out the form below. You will be entered to win a Challenge incentive!