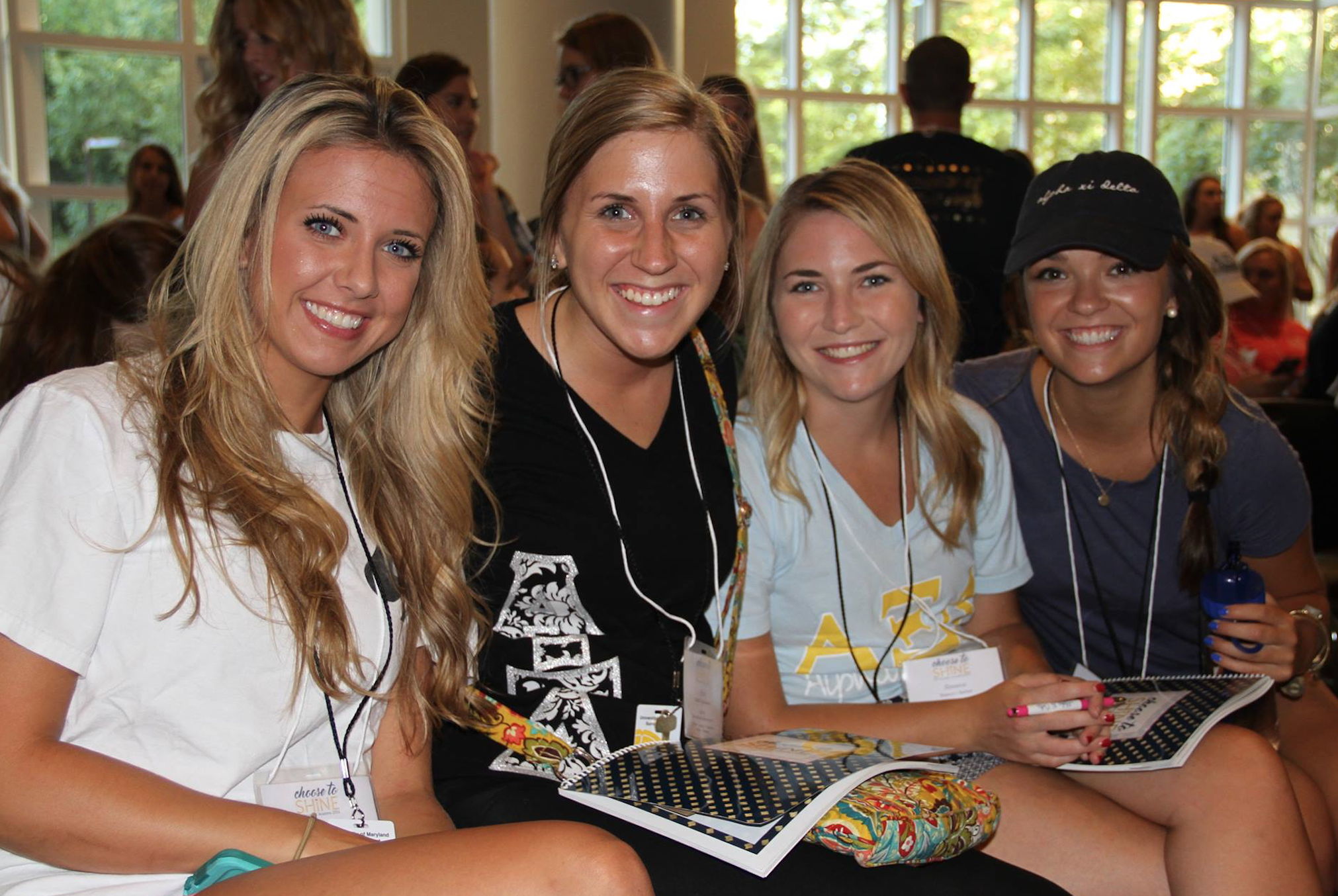 The Founders' Academy is the premier summer educational opportunity for Chapter Presidents and emerging leaders. Drawing on Alpha Xi Delta's commitment to members' strengths, TFA will focus on the development and application of StrengthsQuest principles for individual and organizational leadership. Participants will be challenged to use their individual strengths to honor our Ritual, heritage, and Founders while leading our chapters to success. Two tracks, one for Chapter Presidents and one for emerging leaders, will be specially designed to ensure a meaningful experience. Each chapter should make an effort to send one member for each track.
The Founders' Academy 2018: June 7-10, 2018
Where: The University of Maryland in College Park, MD
Who should attend? Chapter Presidents and emerging leaders; Not sure how to choose an emerging leader? Click here.
How to register: Registration is closed. If you're registered, please complete the summer travel form by May 1.
FREQUENTLY ASKED QUESTIONS
What does the registration fee include and how much does it cost?
Registration is $375 per person to attend The Founders' Academy. Your registration fee will include your lodging and meals, beginning with dinner on Thursday evening and ending with brunch on Sunday. Participants will also receive a workbook and some awesome Alpha Xi Delta swag.
Travel arrangements are not included in the cost of registration. Please work with your Finance & Operations Vice President and/or Chapter Advisor to determine if chapter funds can cover your registration and travel expenses to The Founders' Academy.

What should I wear?
Registrants will receive further information in your confirmation after registration closes. It will include travel logistics, attire, and other specifics necessary to ensure a great experience at The Founders' Academy!
There are two tracks for TFA; which one should I register for?
If you are the Chapter President, then you should register for the Chapter President's track. If the Chapter President is unable to attend due to prior commitments, then a member of the Executive Committee should attend in her place. (Note: Only the Chapter President and members of the Executive Committee should register for the Chapter President's track). Any other member attending should register for the Emerging Leaders track.
Where am I staying? How do I pick my roommate?
Participants will be staying on campus in a semi-suite style residence hall. You will be assigned suite mates and will meet them upon arrival. Being with new Sisters will help you share ideas and make new connections outside of your own chapter.
How do I choose an emerging leader to attend TFA?

Click here for more information that can help you choose the perfect Sister.
When do I need to arrive to The Founders' Academy, and when can I depart?
All participants need to provide their own transportation* to and from The Founders' Academy.
If you are flying, your flight will need to land at Ronald Reagan Washington National Airport (DCA), Washington Dulles International Airport (IAD) or Baltimore Washington International Airport (BWI) by 1:00 p.m. EST on Thursday, June 7, and your flight can depart after 3:00 p.m. EST on Sunday, June 10.
If you are driving, registration for The Founders' Academy will open at 1:00 p.m. EST on Thursday, June 7. You should plan to arrive at the University of Maryland no later than 3:00 p.m. EST on Thursday, June 7 and will depart after 11:30 a.m. EST on Sunday, June 10.
*You are responsible for ground transportation to and from the airport to/from campus. Specific options will be provided for you in your confirmation information packet.