Every year, thousands of women join Alpha Xi Delta to create their home away from home.
Realize Your Potential. Alpha Xi Delta members across the country are called to action by our vision, and you can be too. Your Alpha Xi Delta Sisters will welcome you, support you and encourage you to be your best in every way.
During college, Alpha Xi Delta will be your home away from home and provide you with the inspiration you need to excel. Our Sisterhood will help you explore your strengths and expand your horizons while enabling you to serve your community, learn life lessons not taught in the classroom, enjoy social events and build genuine, life-long friendships.
After graduation, you can rely on your Alpha Xi Delta affiliation with bold and talented women to help you transition into the "real world" – start your career, start your family, start another chapter in your life!
When you join Alpha Xi Delta, you join a network of Sisters who serve as sources of inspiration, push you to become leaders and achieve your goals and become life-long friends. There are currently 129 college campuses that are home to Alpha Xi Delta chapters, and each one offers a unique experience for our members. Regardless of which chapter you join, you will find a supportive family of Alpha Xi Delta Sisters who are excited to welcome you home as you begin the next chapter in your life.
We invite you to learn more about our organization, benefits of membership and the recruitment process.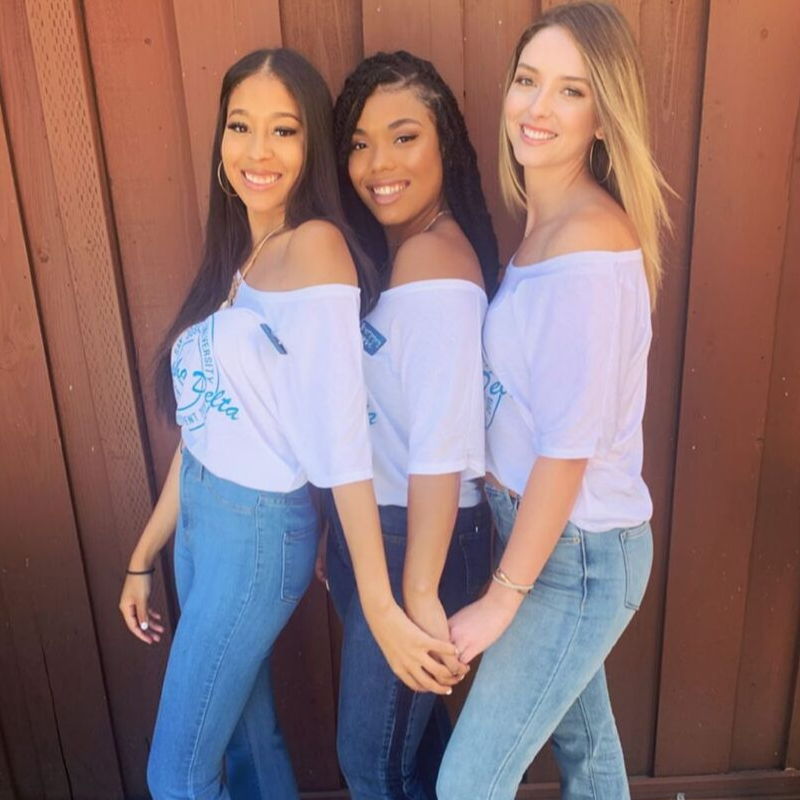 Joining Alpha Xi Delta during COVID-19
We recognize you, along with other potential new members, may have concerns and questions about what joining a sorority could look like during this unprecedented time. Below is some information about what Alpha Xi Delta is doing to ensure the health and safety of our members, and how we are committed to ensuring a strong membership experience for current and future Sisters.

How are Alpha Xi Delta members staying connected in light of social distancing?
During the COVID-19 pandemic, chapters have flawlessly transitioned to virtual membership experiences with the support of our committed volunteers and Fraternity staff. All chapters have had virtual check-ins, conducted the essential business of the chapter and have explored creative ways to maintain a strong Sisterhood bond, despite being away from campus. Here are some examples of ways members have stayed connected:
Hosting virtual chapter meetings.


Having Sisters who have special talents or skills lead a virtual Sisterhood event (ex. leading a yoga practice or TikTok challenges).


Celebrating milestones like graduation, birthdays, internship opportunities, engagements and more.


Participating in group programming opportunities through Inspire Lite.
What do I do if my campus isn't opening in the fall?
Alpha Xi Delta is committed to continuing to provide an engaging membership experience to all of our Sisters, whether that is in a virtual setting or not. As we all know, the pandemic is a fluid situation that continues to change. We have been, and will continue to, constantly work to provide updated resources and plans to all of our chapters as we know more about what the fall may look like for our host institutions.
If you're interested in fall recruitment, please contact the Office of Student Life or the Office of Fraternity and Sorority life on your campus to learn how to register for sorority recruitment.
Alpha Xi Delta Fraternity Headquarters is working with the National Panhellenic Conference to determine what recruitment will look like on each of our campuses. In any scenario, our number one focus is to provide a welcoming and safe environment that allows you to see how Alpha Xi Delta can inspire you to realize your potential.
What is the benefit of joining Alpha Xi Delta?
When you join Alpha Xi Delta, you join a lifelong network of Sisters who serve as sources of inspiration, push you to become the best version of yourself and will be your biggest support system throughout life's journeys.
In these uncertain times, it can be challenging to navigate the unknown. By becoming a member of Alpha Xi Delta, you can instantly unlock opportunities to meet new friends, give back to your community through service, explore leadership opportunities and so much more. And, what's even better, is that your collegiate years of membership are just the beginning. As an alumna, you will always have a network of Sisters to lean on. You may find yourself in a new city after graduation or looking for a new career later in life. With more than 162,000 initiated members, chances are you'll find another Alpha Xi Delta to connect with!
It's hard to put into words, but a Sister just "gets" you, and that common bond is such a meaningful connection that will be with you for a lifetime.
What safety precautions are Alpha Xi Delta taking in light of COVID-19?
The safety and wellbeing of our members is our number one priority. All members have been instructed to comply with all CDC guidelines, as well as those of their local and state governments. Collegiate chapters have been instructed to follow their university's regulations regarding COVID-19 as well.
We have a partnership with AllOne Health to provide Talk One-2-One, a confidential counseling service provider, for collegiate members to speak confidentially and free of charge.
In regards to Alpha Xi Delta chapter facilities, we have been following university standards on sanitation and will continue to do so. We know that it is a unique and special experience to live in a chapter facility, and we want to make sure future members have that opportunity. When facilities are able to re-open, all members who live in or visit the facility, along with staff, will have rules, guidelines and accountability measures in place to ensure the health and safety of our members maintains as our number one priority.
---
There is an Alpha Xi Delta chapter on my campus. How do I join?
You will need to participate in recruitment on your college campus. As a member of the National Panhellenic Conference (NPC), Alpha Xi Delta follows the agreed-upon rules that make recruitment fair and consistent for everyone.
To learn more about recruitment on your campus, the best contact should be the Panhellenic or Sorority/Fraternity Life office. Go to the website of the university you are attending and find the link to the Sorority/Fraternity Life office. Oftentimes, information about recruitment will be listed on the website. If you cannot find it, there should be a phone number or email address provided for the office.
There is not an Alpha Xi Delta chapter on my campus. How do I start one?
Alpha Xi Delta chapters are founded through a process called extension, and we abide by the extension guidelines set forth by the National Panhellenic Conference (NPC). Extension is the addition of a National Panhellenic Conference chapter to the Panhellenic community on a college or university campus, or the establishment of a fraternity/sorority community on a campus where previously none had existed.
To learn more about NPC's extension process, contact NPC at npccentral@npcwomen.org or 317.872.3185.
If you have any questions about the extension process or how to bring Alpha Xi Delta to your institution, please contact Tracy Osborne at tosborne@alphaxidelta.org or 317.872.3500 ext. 152.