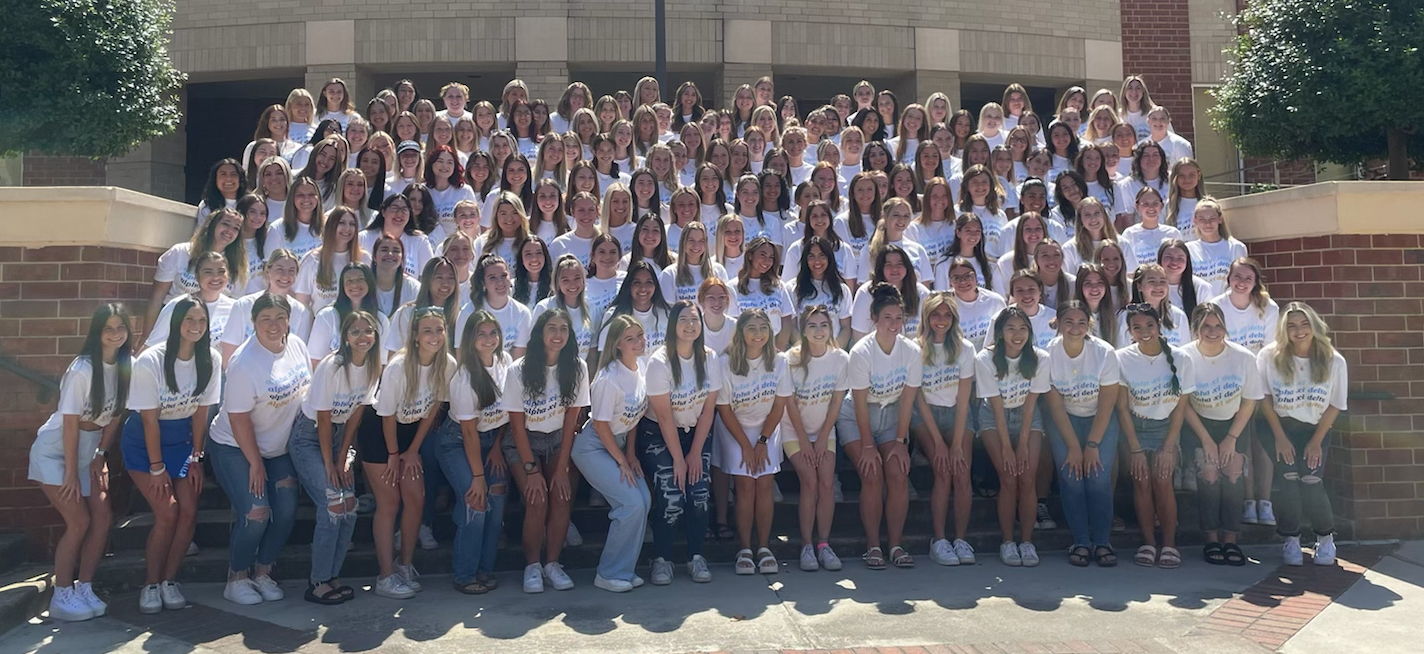 The Workout
The Workout, Alpha Xi Delta's comprehensive recruitment training program gets our chapters in top condition before they start the recruitment marathon. Together, we cover activities and exercises that will apply to recruitment plans, review conversation tactics and give members tools to instill Alpha Xi Delta pride.

The Workout 2023 will be held Friday, June 9 – Sunday, June 11 at North Carolina State University in Raleigh, North Carolina. The Workout will offer small and large group education sessions along with breakout programming for Membership Team officers.
Registration
Registration for The Workout is available from February 15 until March 31, 2023. Registration cost is $375 per person. Late registration will be available until April 10, 2023 for an additional fee of $35 per participant. A change fee of $35 will be applied to any participant changes made after the registration deadline of March 31.
Registration cost is $375 per person to attend The Workout. In addition to tailored programming, the registration fee will include your lodging accommodations and meals, beginning with dinner on Friday evening and ending with breakfast on Sunday. Participants will also receive a workbook and exclusive Alpha Xi Delta merchandise.
Please work with your Finance & Operations Vice President and Chapter Advisor to determine if chapter funds can cover your registration and/or travel expenses to The Workout.
Attendance
In order to prepare for your chapter's recruitment efforts, all Membership Vice Presidents are highly recommended to attend The Workout. A second representative from the Membership Team such as the Recruitment Data Director, Recruitment Events Director, Recruitment 365 Director or COB Director is encouraged to attend. A maximum of four representatives will be allowed per chapter.
Health & Safety
The health, safety and well-being of our members is of the utmost importance. The Workout brings members from multiple communities together and it is our responsibility to keep all of those communities safe. Alpha Xi Delta will ask attendees to participate in a pre-travel and daily health check assessment. If an attendee is not feeling well, we ask that they do not travel to The Workout or that they remove themselves from the day's activities.We will also follow the parameters given by the local municipality and venue. Please understand that these can change prior to your arrival and we will communicate specifics as we become aware.
Accommodations
Participants attending The Workout will stay in a residence hall on campus for the duration of the program
Travel
All participants should provide their own transportation to and from The Workout. All participants within driving distance should arrive at North Carolina State University no later than 2:00 p.m. Eastern on Friday, June 9 and will depart after 12:00 p.m. Eastern on Sunday, June 11.
All participants flying should arrive at Raleigh Durham International Airport (RDU) no later than 1:00 p.m. Eastern on Friday, June 9 to allow for travel time to campus from the airport, and flights should depart after 3:00 p.m. Eastern on Sunday, June 11.
Participants will be responsible for ground transportation to and from the airport, and specific options will be provided in your confirmation packet. On-site registration will open at 12:00 p.m. Eastern and the opening general session will begin at 3:00 p.m. Eastern on Friday, June 9. A full schedule can be found on DISH.
Please fill out the travel form once your travel plans are finalized. All travel forms for The Workout at due May 1. After the May 1 deadline, no changes can be made, and parking will be billed to those who are driving.
Please make travel arrangements accordingly based on the program start date and times. No overnight accommodations can be secured at North Carolina State for early arrivals or late departures. If you arrive early or depart late, your overnight accommodations are your responsibility. Additionally, late arrivals and early departures are not permitted.
Packing
Participants will receive further information including travel logistics, attire, and other specifics after registration closes for The Workout in your confirmation packet.
Questions
Contact Heather Chibuk, Director of Membership Growth & Marketing, with any questions about The Workout 2023.