Getting Back Into The Routine
Summertime brings rest, self care, and catching up with family and friends. It also brings abandoned resolutions and empty fitness centers. If you've strayed from your resolution of taking good care of your body, it can be a challenge to get back into the swing of things. Let's dive into this challenge together, and identify practical ways to jumpstart your routine, and get back to feeling healthy and strong.

The Challenge
Have you already forgotten about your resolution? You are not the only one! A study of new year's resolutions revealed that 25% of people abandoned their goal after just one week. But… we can jump back in! Let's commit to two weeks of a routine, and see if we can create a positive habit.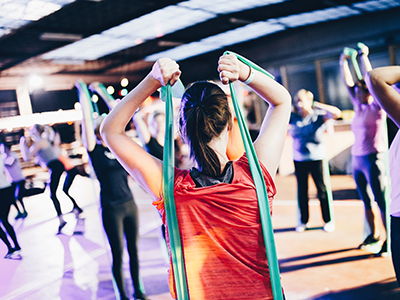 We're a little more than half-way through the year, but it's not too late to stick to a promise you made for yourself! What area of your physical wellness do you need more control over? Then, think about what you can do on a daily basis to excel in these areas.
Do you find yourself giving excuses for the daily 30 minute walk you promised your doctor?
Pack an easy-to-eat lunch, and take the rest of your break on-the-go for a walk around the block. You'll get a much-needed break from your desk, and recharge for the second half of your day. Invite a colleague along for your walk, or use this time to catch up on a podcast.
Are you having a tough time drinking your goal amount of water?
Bring a reusable water bottle or canteen with you. In my personal experience, a water bottle that you like and is easy to carry is key! Set reminders to hydrate every few hours on your Google calendar or FitBit, to help stay on track.
Is it tough to cut yourself off from a Netflix binge and get to sleep on time?
Turn off the auto-play feature in your settings to make it easier for you to exhibit some self control. Take it one step further and set a recurring bedtime reminder on your phone.
Do you struggle to prepare a meal you would be proud of?
Set yourself up for success by meal planning ahead of time, and choosing options that are both satisfying and fulfill a variety of food groups. Have you tried grocery pickup yet? You can add sensible items to your cart throughout the week, and check out when you're ready! Or, experiment with a meal preparation/delivery service - you can choose meals that are as easy to prepare as they are tasty.
Is the morning pure chaos in your home?
Establish a routine the night before: set the coffee maker, prepare lunches, and pick out clothes all before hitting the hay. Corral and zip up backpacks, organize your purse and laptop bag, find your keys, and plug in your phone. Make a list of things to take care of if that would help! All of these tasks will likely take less time to complete in the evening, and in turn ensure a smooth(er) morning.
By being intentional in your routine, you can achieve your goals for physical wellness. Consistency is key, so make it a point to practice your goal each day - the repetition will help solidify these behaviors into positive habits.
Get Together
We all know that accomplishing goals is so much easier to do with a little accountability. Whether you're local or separated by distance, sharing your goals with a Sister and supporting each other as you progress can make all the difference in your success.

Report Participation
Sisters, we have made it easier for you to document your participation in A Clear Vision of Life: The Wellbeing Program and be entered to win a Challenge incentive. Just fill out the form below!