Step into Spring!
The Challenge
After spending the majority of the past year inside, your step count may have suffered as a result. Read through this challenge for inspiration to fit walking back into your daily routine.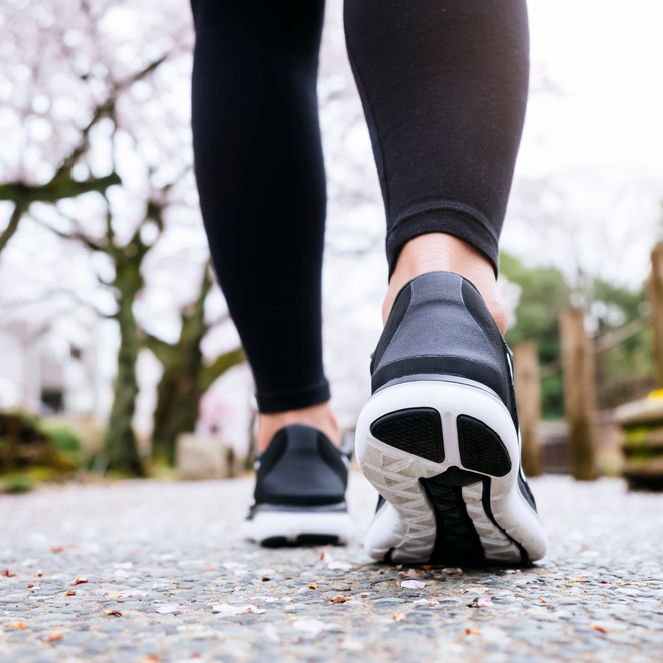 We all know walking regularly can help reduce the risk of several health problems, such as heart disease, high blood pressure, and even depression (source). But, pandemic-related isolation and social distancing may have gotten in the way of your daily step count. That's okay – resolve today to start again! Here's how:
Set a Daily Step Goal.
Most activity trackers default to 10,000 steps per day, as this adds up to about five miles for most people, but that may be too much for you. If the thought of 10,000 steps per day feels intimidating, start with a smaller goal: aim for 8,000 steps, 5,000 steps, or even just 10 minutes of nonstop walking per day, and increase it from there. The point is to set yourself up for success, not to push yourself too hard.
Schedule Walk Breaks.
Put reminders on your calendar to stop working, get up, and take a walk in-between Zoom calls. Now that spring has arrived, getting outside for a walk is likely much more enticing. Bonus: the spring sunshine can help improve your mood!
Join a Challenge.
Do you have a Garmin, Fitbit, or other fitness watch? Challenge your friends – or a stranger – to a weekly step challenge! Or, start a friendly office-wide step challenge with your coworkers.
Get Out and Explore.
Is there a new neighborhood you've been wanting to check out? Grab a friend and go for a walk! Or, step into the great outdoors – hiking is a great way to rack up those steps.
How do you get your daily steps in? Tell us what works for you (or what doesn't) when reporting your challenge participation.
Tools Needed
A good pair of supportive shoes, a pedometer or other activity tracker, and a little creativity.

Let's Get Together
Invite a Sister out for an evening walk! Or, ask her if she'd like to complete a weekly or monthly step challenge with you.

Resources
To learn more about how to determine the best daily step goal for you, read through these additional articles:
Report Participation
Sisters, we have made it easier for you to document your participation in A Clear Vision of Life: The Wellbeing Program and be entered to win a Challenge incentive. Just fill out the form below!