What is the Cost of Being Healthy?
I think we can all agree that it seems the cost for everything is increasing dramatically by the day. Whether it be gas, groceries, clothes, etc. we are starting to see the costs change, and not necessarily in a good way. What is the monetary cost of a healthy lifestyle?

The Challenge
Try a new gym, boutique fitness class, at-home workout, exercise app. Challenge yourself to try something different than what you are currently doing for one month. If you don't currently have a fitness routine, then take a moment to try a few different things to see what you like best. Share your new challenge on social media to keep you accountable!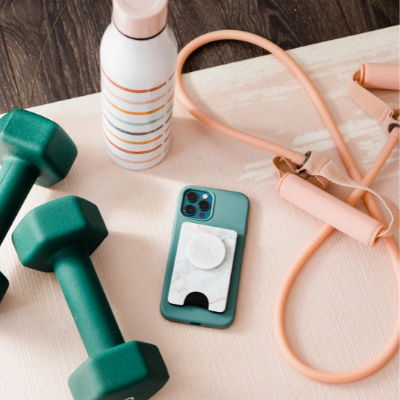 Living a healthy, active lifestyle has a different definition for each individual person. For you, it may be working out 30 minutes a day and having a salad with dinner. For someone else it may be just eating at home and not ordering fast food. Others may meal prep and workout before and after work. Have you determined what works for you?
Many of the boutique fitness clubs are popping up almost daily – PureBarre®, Orangetheory Fitness®, Club Pilates®, BodyTek Fitness® to name a few. There are also the behemoth gym companies like LA Fitness and Gold's Gym, your local gym spot, or even at-home exercise options like Peloton® and NordicTrack®. All of these normally require a monthly fee, which has several membership options available, up to an "unlimited" package. Even now, apartment complexes and housing development communities are adding gyms to their amenities lists. I chatted with one of my Panhellenic sisters who is a "gym membership guru" in South Florida about her memberships and how she determined what works best for her. She has no more than three types of memberships at one time, including her at-home workouts with Peloton, and each one offers something different for her. When I tell you she has tried them all, she really has, aside from wearing vibrating suits when she works out – and yes, that is a thing. You are probably thinking my goodness, she spends a fortune on gym memberships, but for her it is worth it at less than $300 a month.
That type of lifestyle is not for everyone. If you are just starting out and trying to determine what works best for you, do some research. Most gyms and boutique fitness clubs offer a trial class or week, in addition to reduced fees to join or reduced first month cost. If you have cable or a streaming service, several offer free workout videos to do at home. Or you could just grab a Sister for a stroll around the neighborhood – catch up and get your blood pumping at the same time. Communities offer free workout classes for their residents. There is also a company called ClassPass that offers a 4-week trial on a credits system, allowing you to try different gyms, studios, spas, etc. for 4 weeks. This could be a great option for Sisters who travel the country for work weekly and are always in a different spot. It is hard to have a local membership if you have to travel a lot. The local YMCA is a great lower-cost option if you have one near you. Or see what options are available online!
In addition to the gym/app/fitness membership costs, there are the costs of eating healthier. If you are someone who can cook at home, unlike myself because I burn everything, then the overall cost is not as expensive as eating out or a prepared meal plan as long as you are cognizant of your shopping. We cannot all afford to shop from Erewhon in Southern California, but your local grocery store does have healthy and affordable options for you. If you prefer a store like Fresh Market or Whole Foods, maybe check out Sprouts or Trader Joes. The Food Network website always has healthy recipes that are free to use. Have you thought about trying meal prep to help with costs, too (see this round's Social Wellbeing Challenge!)?
There are tons of websites and blogs out there with healthy meal prep suggestions and options to try out! You could also try a pre-made meal plan service. I spoke with another Panhellenic sister who uses a pre-made meal delivery service. For her, it is easier because her family has such different food palettes that everyone gets what they like, there is no wasted food, and it saves her time. If you haven't already, take a moment to sit down and determine what your food budget is – both at home and restaurants – maybe you have separate budgets. Try this new budget for a month and see if it works for you, if not, pivot and adjust.
Speaking of time, there is always a cost-of-time aspect with exercising and preparing food. I feel this is the hardest piece of the daily schedule puzzle. When am I supposed to have the time? Some Sisters prefer to work out in the morning before work, to clear their mind and prepare for the day. Others prefer on their lunch break or after work because they meal-prep those meals. If you have kids playing sports, instead of sitting and waiting, could you be walking the track or popping into the gym next door? Our local park has walking trails by the ball fields that are perfect to jog around while the kids are at baseball and football practice. Make it work with your schedule and try to make it easy on yourself. The easier it is to add something new to your schedule, the easier it will be to follow through. That's why I joined a gym near my grocery store. I knew if I had to drive 10-15 minutes out of my normal area that I wouldn't be as committed to attending classes.
It is well-documented that having an active lifestyle can have many benefits on your overall long-term health. It helps you feel better, sleep better, have more energy and keep your mind sharp. When you see the costs that you pay monthly on food and fitness memberships but have also started to feel better overall, was it worth it? For my husband and I, it was worth it. We have more energy to do the things we want to do on the weekend and don't have that slump in the middle of the workday.
There is a cost associated with everything in our life and sometimes we have to weigh our options to determine what is the best for us. We may need to balance, or juggle, many responsibilities at one-time, your health being one of them. It seems there is a certain stigma around being healthy is more expensive and time-consuming, whether it be the cost of food, gym memberships, or equipment. But there are quite a few options out there that do not have to blow your weekly or monthly budget. It is about balancing what works for you, your schedule and your wallet.
Tools Needed
Determination, phone, gym clothes, food, and headphones
Let's Get Together
Do you need some motivation to start a healthy lifestyle? Call a Sister and be each other's accountability partner.
Resources
Obe Fitness: Fitness website for at-home workouts
Class Pass: Membership to try different gyms, spas, salons in your area
10 Beginner Workouts That You Can Do at Home for Free

Report Participation
Sisters, we have made it easier for you to document your participation in A Clear Vision of Life: The Wellbeing Program and be entered to win a Challenge incentive. Just fill out the form below!