Plan Out Your New Year's Resolutions
The beginning of the year is right around the corner. That brings up New Year's resolutions for many people. This may include some physical changes in your life. Let's plan those resolutions and make them attainable goals for the new year!

The Challenge
Make attainable New Year's resolutions you can achieve throughout the year and build upon as the year progresses.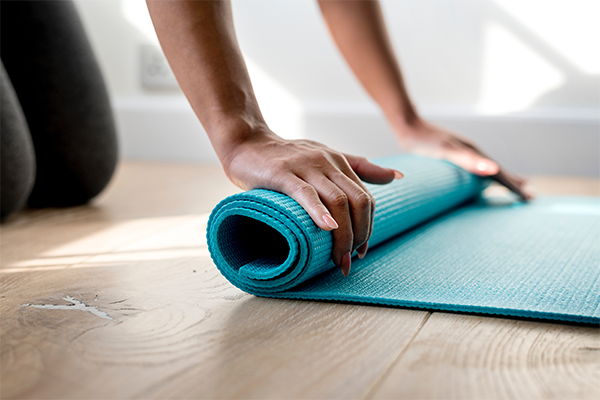 Weight loss, eating right, and other physical goals are most people's New Year's resolutions, but studies have shown that only 8% of people achieve those goals. Let's start out with SMART goals to help assist in the success of accomplishing those objectives.
SMART goals are Specific, Measurable, Attainable, Realistic, and Timely. This is an effective method if you plan ahead and set checkpoints throughout the year and track your progress.
Sit down and make a list of physical goals that you would like to accomplish in 2019. When you have made that list, then set goals based on the SMART goal areas to ensure that they can be accomplished.
Be specific in your goals and make sure that you can track them. This helps to keep you motivated because you can cross those goals off as they are accomplished daily, weekly, and/or monthly. Making your goals specific also keeps you accountable. You either did or didn't do it. For example, if you want to walk more often, then make sure that you accomplish this daily, weekly, and/or monthly and track it.
Make your goal measurable. Note where you've started and then where you will be when you've accomplished your goal. If you New Year's resolution is to walk a mile three times a week, then set up that time weekly to achieve that goal. Get a Fit Bit or pedometer to track your distance while you walk. There are also tons of apps out there to motivate your journey and keep you on track.
Plan attainable resolutions that you can meet. If you set high expectations, but don't achieve them, that can be discouraging. This won't inspire you to take on the rest of your resolutions and you may scrap the whole list by January 15. That is not what you want to do. Make those goals attainable and get a sense of accomplishment from your successes.
Have realistic resolutions set before you and set out to triumph over them. Don't set such high expectations that you know you won't be able to reach. If you want to lose weight, set out to do this in a year, not a week. Make checkpoints throughout the year to keep yourself on track, but don't set yourself up for failure. Set small goals along the way to achieve the bigger goal overall.
Ensure that these goals are timely. If you want to plan a resolution for the whole year, break it up into smaller goals throughout that work with that time of year. If you want to watch what you eat during the holidays, don't set that goal in May or June because there aren't as many holiday events happening in those months. Instead, refocus that goal to October through December. Also, give yourself time to attain resolutions and don't set them all at the beginning of the year. Spread it out and make it easy on yourself. This should be improving your life, not stressing you out.
An example of SMART New Year's resolutions would be:
I will walk one mile three times a week by using my lunch hour to get outside and get moving. On Monday, Wednesday, and Friday I will dedicate my lunch to getting in my steps!
This resolution is simple and on-going without a lot of pressure on any time during the year. Yes, life happens and we get busy, but making specific, measurable, attainable, realistic, and timely goals with help you to stay on top of the things that you set out to tackle!
Report Participation
Sisters, we have made it easier for you to document your participation in A Clear Vision of Life: The Wellbeing Program and be entered to win a Challenge incentive. Just fill out the form below!