Appropriately Socializing: How to be social with your co-workers in and outside the office
Socializing with your co-workers almost feels impossible when you do not want to blur the lines between work and personal. Many people struggle with finding that balance but this challenge will give you some tactics to help draw, and stand firm to those invisible, yet important, boundaries.

The Challenge
Learn something new about each of your co-workers within the course of a month over lunch, coffee, or a company outing. Learn how they can add value to your position and vice versa. If you work for a large company, challenge yourself and try to connect with one person from each department - whether it be in passing, in the break room or at a company event.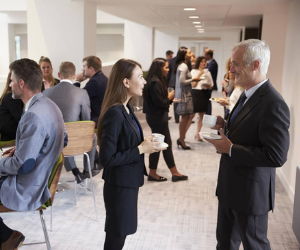 We know it is inevitable that people most likely spend more time at work than at home. That's right, not with our significant others, pets, friends, or family, but with co-workers you may or may not have chosen to have a full-time commitment with on a daily basis. Given the extensive amount of time spent with colleagues, it is important to build relationships and navigate networking. Is it possible to network without blurring the lines between professional life and personal life?
Absolutely! However, it will take some intentional considerations and may be especially hard in a managerial position where you oversee subordinates.
How do you keep it professional and personal at the same time? How do you socialize with the people that you spend the most time with every week? Studies have proven that employees with good workplace relationships tend to be more satisfied at their job. Can you blame them? Working in a hostile environment where people do not get along is very stressful - after all you do spend a majority of your time there.
Some companies foster company cultures and encourage workplace relationships while others can have an awkward unspoken rule about socializing. In either case, do not let that hold you back from socializing.
Decide what version of yourself you want to be.
In order to keep the lines clear between professional and personal, you have to decide what version to present at work. This does not mean latch on to an alter-ego. This simply means to present your best self. The one that you would give 5 stars to if you were reading your resume. No need to reveal the college party phase or that one night on spring break. Prep your behavior like you prep yourself for an interview. Consider your values and aim to be your authentic-self.
Maintain appropriate behavior at company events.
Remember 5-star resume girl? Well, that applies at company events outside of the office too. Some mindful tips are to limit the amount of drinks you indulge in, avoid getting over competitive, and avoid romances.
Genuinely be social.
In order to obtain proper working relationships, show genuine care about the things your co-workers care about without getting too personal. For example, if your co-worker enjoys snowboarding ask about their experience. It is okay if you do not have the same interest, but consider these interactions as an opportunity to learn something new. Ask for reading recommendations to learn more! Show genuine care and interest, then revisit the topic for continued relationship building.
Be social in passing.
It's okay to have a quick conversation while passing a coworker in the hallway or in the break room, but don't let it get out of hand. After all you have work to do. Ever heard of a "water cooler chat?" The concept is taking advantage of brief interactions and building company culture. You may also find a new person to collaborate with on a cool project.
Set boundaries.
No matter how comfortable you get at work and with your co-workers, there are certain topics that can make a relationship turn upside down. Avoid talking about politics, religion, and other controversial issues. Those topics are best discussed with friends and family outside of work. Again, be your genuine, authentic self, but limiting these topics will prevent conversations going south.
Furthermore, avoid the gossip. Heavily associating with the office gossipers can make socializing with others awkward. They will shut themselves down around you in fear of more gossip going around.
Tools Needed
An open-mind, courage and persistence.

Get Together
Don't make it a one on one event. Groups of three can be a great way to keep the conversation going. Need a mid-morning pick-me-up? Snag one or two office mates to join you for a quick coffee run.

Resources:
Report Participation
Document your participation in A Clear Vision of Life: The Wellbeing Program and be entered to win a Challenge incentive! Just fill out the form below to share that you completed this challenge!