How to Amp Up Your Skillset: Free Resources to Learn Something New
COVID-19 has forced a lot of us to pivot into a digital world. Within a month's time everything shifted, from doctors' appointments to staff meetings, practically everything is on a digital platform. Many of us are left wondering when our lives will return back to normal and still others lost jobs and are wondering how to re-enter the workforce that will be highly competitive.
Now is the perfect time to amp up your skillset and learn things that may increase your chances at getting a new job or help you make a switch into a new career field. Thankfully, many companies have made access to these tools free!
The Challenge
Take advantage of a learning opportunity that is free and is a topic that you've always wanted to learn more about or that is a skill you need for your career.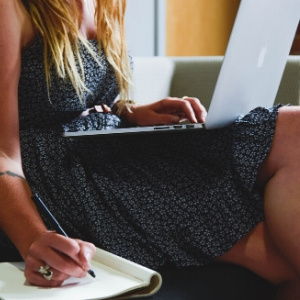 Taking advantage of professional development is beneficial if you are in between positions or clocking more than 40 hours a week. Take a look at the options below, or seek out your own and identify what you can set you up for your future endeavors.
First things first—consider highlighting your professional development courses/trainings/etc. on your resume. If you're in between jobs, make sure to include the dates so that the employer can see that you were training while unemployed. In your cover letter, you can express how passionate you are about your career field or how you've always wanted to change fields and took this opportunity to increase your skillset.
Also, did you know major platforms offer certificates of completion? You don't necessarily have to include them in your portfolio but including it in your resume and cover letter for what you did while unemployed will look great to any employer. If nothing else, hold on to them!
What skillset are you going to amp up?
Coursera - Through July 31st Coursera is offering a selection of free courses to people who want it. This site has a wide variety of courses for every level of learning. Whether you've just graduated or are 10 years into your career, there is something for you.
SkillShare - Get two months of Premium Skillshare for free. You'll have access to thousands of courses to expand your skillset. Also, this site offers an on-demand option so you feel like you're in the course live!
Udacity- Quarantine special is what they're calling it, but get 30 days free of course materials to amp up your skills on Udacity!
Google Digital Garage - This one is primarily for learning digital skills in marketing, tech, business, and even computer software. Google offers a wide variety of courses to keep you up to speed - all you need is a Google email account and you're all set!
Tools Needed:
A drive to learn, a computer or iPad, and an open mind.
Let's Get Together:
Attend a course with a Sister who has the same career path as you or is intending to change it.
Report Participation
Document your participation in A Clear Vision of Life: The Wellbeing Program and be entered to win a Challenge incentive! Just fill out the form below to share that you completed this challenge!