Reigniting the Spark for Alpha Xi Delta
Alpha Xi Delta's 55th National Convention is just around the corner! Soon, Alpha Xis from all over the country will gather to celebrate our Sisterhood. Attending Convention is a great way to reignite that Alpha Xi spirit and provides a chance to socialize with Sisters new and old, no matter where you are in your Sisterhood journey. Both collegiate and alumnae members have the opportunity to forge new bonds with Sisters from other chapters and alumnae associations. For alumnae, Convention also offers the opportunity to reconnect with your home chapter, or perhaps with fellow Fraternity volunteers you've worked with over the years. But, if you're unable to attend Convention this year, read through this challenge for ideas on how you can still share in the spirit of Sisterhood.

The Challenge:
How do you keep the Alpha Xi "spark" alive in your life? Tell us how you remain engaged in Alpha Xi Delta all year round!
---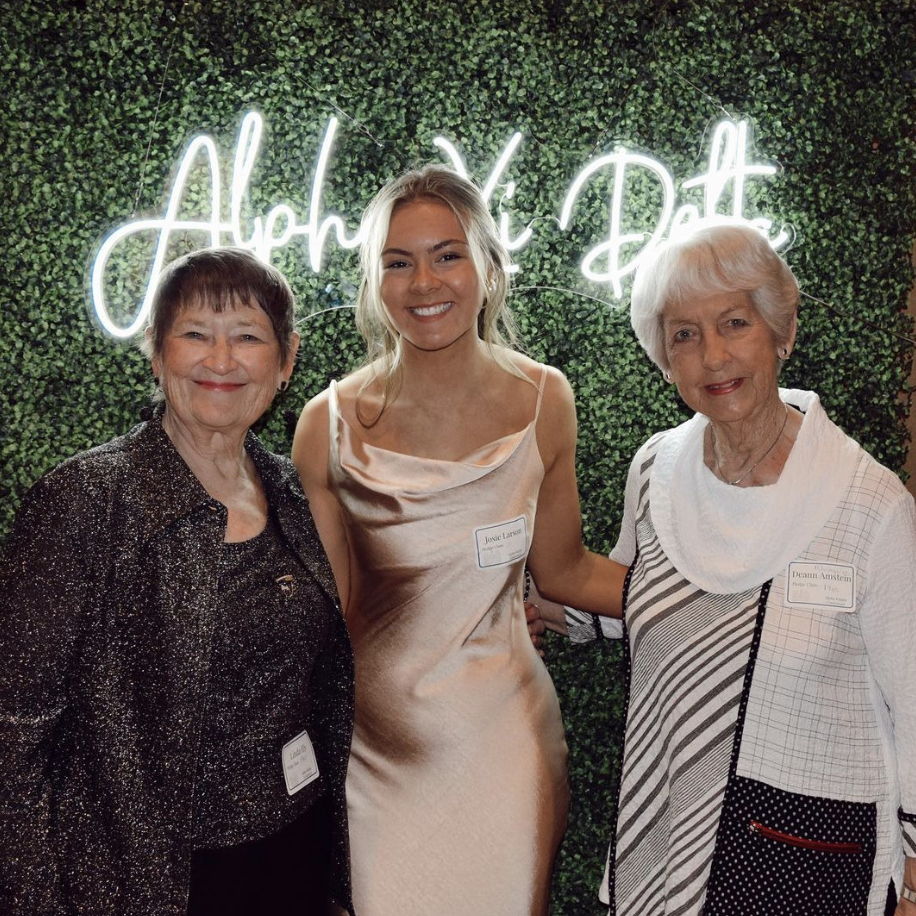 Are you attending Convention? Yay! We are so excited to see you in New York City! If not, don't fret – there are other ways that you can spark your engagement with Alpha Xi Delta. Read through the suggestions below for ways to reconnect with our Sisterhood.
Get Involved with a Local Alumnae Association.
If you aren't already an active member of your local alumnae association, join! Alumnae associations are a great way to stay connected to Alpha Xi Delta. In addition to hosting annual Founders' Day events, many alumnae associations offer social events targeted towards a variety of specific age groups, such as new graduates, moms, outdoors lovers – the possibilities are endless! Find your local alumnae association on the Fraternity's website here.
If you don't have a local alumnae association, there may still be other Alpha Xi Delta alumnae in your area that you can connect with. Fraternity Headquarters can help you get in touch with local Sisters. Instructions are found at the link above.
Be Inspired to Volunteer.
Collegiate chapters need the support of alumnae in many ways. If you have free time and would love to give back to the Fraternity, serving as an advisor may be right up your alley! There are a variety of volunteer roles that are appropriate for whatever amount of time you have to give. You can learn more about volunteering with Alpha Xi Delta and fill out the volunteer information form here.
Organize a Reunion.
When was the last time you saw the Sisters from your New Member class? What about your Big – or Little – Sister? Maybe it's time to start planning a reunion weekend! Alpha Xi Delta gatherings don't have to be formal events. Consider reaching out to a group of Sisters and planning a beach weekend or use your Big Sister living in a city you've always wanted to visit as an excuse for a vacation and to reconnect.
Participate in Alumnae Programming.
Did you know the Fraternity offers a variety of programming just for alumnae Sisters? (If you're reading this challenge, you're already familiar with one!). The quarterly Wellbeing Challenges are just one program the Fraternity offers to help encourage your personal development. Wellbeing Wednesdays are offered to supplement the Wellbeing Challenges, and the online format makes them a great way to connect with other Sisters. In addition, the Fraternity regularly offers other programming opportunities, such as the Racial Justice Workshop and mentorship program. Always check your email inbox for your Alpha Xi Delta Update – this is where you can find the most up-to-date information on current programming opportunities.
Wear Letters.
You may not be able to attend Convention, but that doesn't mean you can't show your Alpha Xi Delta pride! Dress in the Convention dress code for each day: for example, you could wear navy, light blue, or gold on July 5th, or wear your Quill on July 6th (consult the Convention schedule for inspiration on coordinating outfits). Pull out your favorite set of letters, t-shirt, or browse Xi Boutique for some cute new merch! Send us a pic of you participating in the Convention themes – we'd love to see how you stay connected!
Engage with Alpha Xi Delta on Social Media.
Did you know Alpha Xi Delta has a Facebook page? And an Instagram account!? Like us and follow us to stay engaged! Most collegiate chapters also have a social media presence that may offer the opportunity to reconnect with Sisters you went to college with.
Many of us have an old scrapbook or photo album from college lying around somewhere. Dust it off and share some of the photos with us on social media! Scan old sorority pictures (or simply take pictures with your phone) and tell us the story behind the photo. We love to reminisce about time spent with Sisters.
How do you keep the Alpha Xi "spark" alive in your life? Tell us how you remain engaged in Alpha Xi Delta when you complete your challenge participation form.
Report Participation
Document your participation in A Clear Vision of Life: The Wellbeing Program and be entered to win a Challenge incentive! Just fill out the form below to share that you completed this challenge!