Big Batch Freezer Meals
The Challenge
We all see the dollar signs increasing for the goods around us and the need to find ways to cut costs are also rising! Gathering with some friends to prepare bulk meals to store in your freezer. It is a fun way to reduce your spending and feed your loved ones home-prepared meals.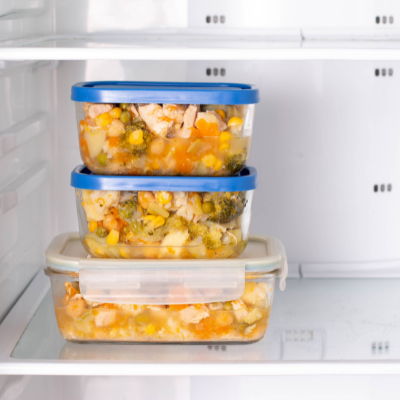 Making your way through the aisles at the grocery store is an easy way to see the rising costs of food. Finding ways to bring that cost down can help your wallet and also help you bring healthful, nutritious meals to your home's table.
A few things to do before you dive in:
How much freezer storage do you have available?
What's your reusable container situation?
How many people are you hoping to feed with each meal?
What small appliances are at your disposal? (re: slow cooker, InstaPot, AirFryer and the like)
Financially, how much are you able to commit to a bulk-food prep?
Once you've answered these questions you're ready to start planning! The benefit to doing this with others is you can share the cost of bulk buys (think large amounts of a protein that can be broken down into smaller portions; big packs of veggies, cheese, pasta, sauces and condiments, other dairy and then bulk disposable trays or baggies if you don't have appropriate reusable containers).
To get yourself moving in the right direction, take the information you have from the questions above and start thinking about freezer-friendly recipes that are well-loved in your home and make a list. Ready for something new? Search Pinterest or make a post on social media about what you're seeking. Once you have your list, group them based on protein (typically the costliest part of a meal) as this is where you'll be able to find some good savings by buying in bulk. Now it's time to cut—what doesn't make the final list? Where are your outliers? Do you have one recipe that calls for a specialty cut of meat or a fancy, pricy cheese? Cut it. If you are committed to it—can you replace the pricey item with another that you're already planning to purchase? If you want to cut costs you also have to be willing to make some hard choices!
Once you're ready to shop, be prepared to make swaps on the spot! Does the pasta shape matter? Do you really need a specific brand of frozen vegetables? Can you buy stew meat for a crock pot recipe over a flank steak that's called for? These are things for you to consider, but don't be afraid to Google while you're standing in front of the meat counter! Also, the employees of the store are there to help you. Can't find a cut you're looking for? Or maybe it's outrageously expensive—ask the butcher for a recommended alternative.
Looking to save even more? Call your grocer and ask when they typically do their markdowns. Download the app Flash Foods.
Not sure where to start? Give these links a view:
*Some of the cost estimates in these may be off due to recent price increases.
If this feels like a lot to take on for your first time, try one of the links below and consider doubling it—some for now, and some for later! You don't have to make 30 meals to plan and prep ahead. You can always give it a try on a smaller scale!
Tried-and-true keepers from freezer to table!
Another great thing about freezer meal prep is how little food waste you end up with. You can plan to use what you already have prepared and then add to it with pantry or fresh items (think a side of rice and a salad). You reduce uncooked items sitting in your fridge and running the risk of them falling victim to an unexpectedly busy week! Instead, you can pull something out of the freezer the night before and reheat when you're ready. This may also help you cut down on impromptu meals out.
Tools Needed
Pick your method of organization: printing, Pinterest board, file on your desktop or a pad and paper.

Let's Get Together
This challenge is PERFECT for a group! You may find success planning a meeting ahead of your cooking day where you each bring a few recipes and decide on a final menu together.
Report Participation
Document your participation in A Clear Vision of Life: The Wellbeing Program and be entered to win a Challenge incentive! Just fill out the form below to share that you completed this challenge!