University of Georgia Re-establishment
Alpha Xi Delta is thrilled to be re-establishing our Gamma Upsilon Chapter at the University of Georgia (UGA) the fall 2023 semester! Please take a few minutes to read through the information below to learn how Sisters can get involved. If you have any questions, please contact us here.
To make sure you are receiving information from the Fraternity, take a minute to update your contact information and contact preferences in Exclusively Xi, Alpha Xi Delta's members-only portal. Once you've updated your information in Exclusively Xi, let us know by filling out this form and you'll automatically be entered to win an Alpha Xi Delta travel mug and a Starbucks gift card!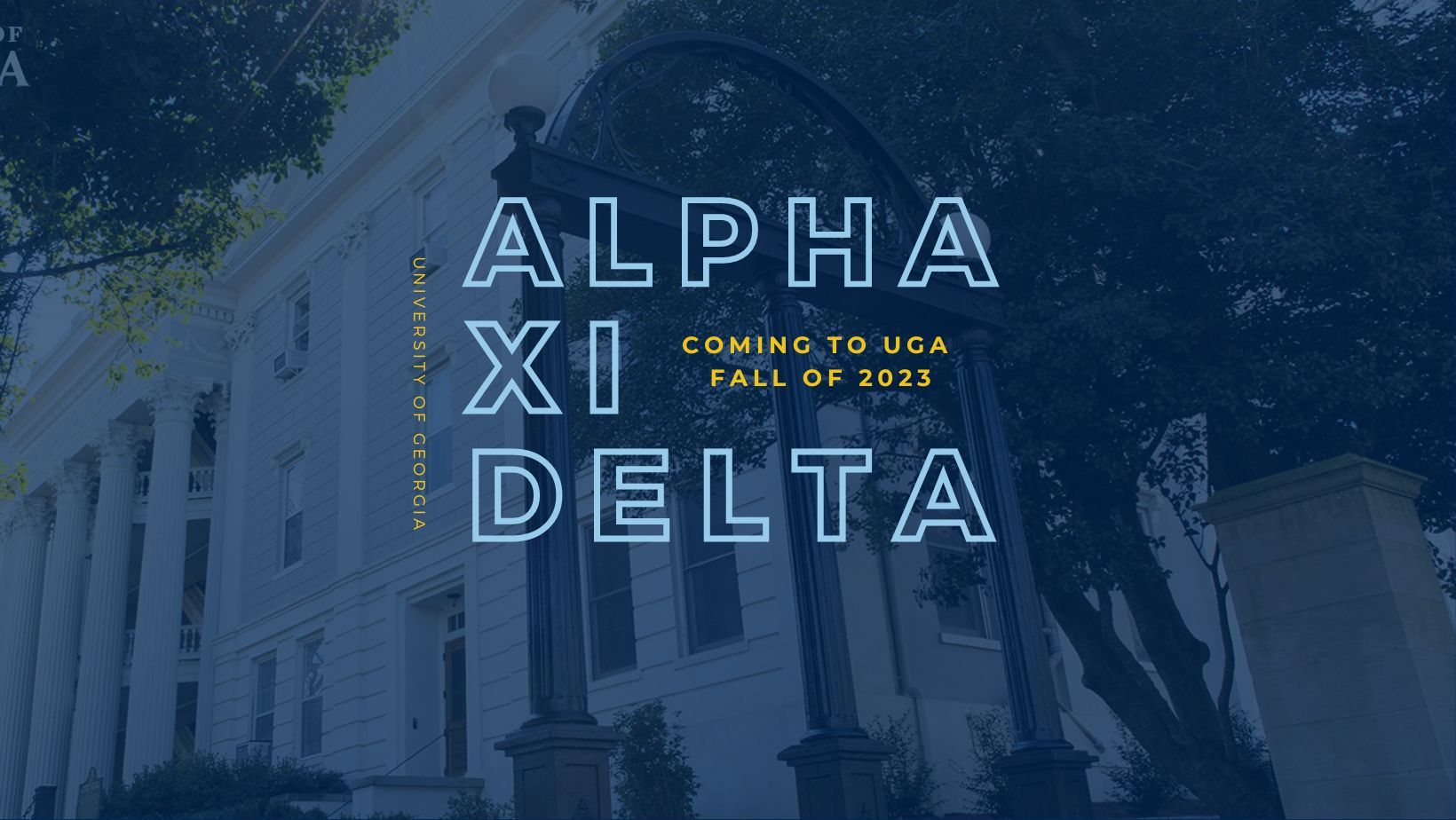 If you are an interested Potential New Member and will be attending UGA in fall 2023, please visit this website for more information, recruitment event information and more. Alpha Xi Delta's establishment recruitment will take place from August 21-31, 2023. Registration for our recruitment opened on July 19.
ALPHA XI DELTA AMBASSADORS
We need our Sisters to spread the excitement about Alpha Xi Delta's return to UGA! Here are a few ideas on how you can promote Alpha Xi Delta:
Wear your Alpha Xi Delta gear to community events, Friday night high school football games, running errands, etc. You can also advertise out and about with a car magnet, a decal on your water bottle or wearing a hat at the pool. Here's a link to Xi Boutique where you can buy Alpha Xi Delta merchandise.


Connect or reconnect with five Sisters (regardless of where they live!) and talk to them about Alpha Xi Delta alumnae opportunities and the UGA re-establishment. You can search for Sisters on Exclusively Xi!


Fill out Potential New Member Recommendation Forms. If you know any outstanding high school seniors attending UGA, let us know.


Make a difference in your community through Alpha Xi Delta's Kindly Hearts Initiative. Get together with a group of Sisters, friends and family for a service project supporting children experiencing foster care and homelessness.


Share Alpha Xi Delta information to other groups and organizations in your community (i.e. professional organizations, mom groups, church groups, PTA, etc.).


Follow our social media channels for Alpha Xi Delta and the UGA re-establishment and share posts and stories to your own social media for others to see.
UGA RE-ESTABLISHMENT DETAILS
In August, Alpha Xi Delta will participate in the first round of formal recruitment at UGA where we will provide information to Potential New Members about us and our establishment process. Then, our recruitment process will take place immediately following Panhellenic formal recruitment. When establishing a new chapter on campus, it is best practice for the establishing chapter to hold their recruitment events until Panhellenic formal recruitment has completed.
Educational Leadership Consultants will be stationed at UGA this fall to host information sessions, table on campus, and meet one-on-one with Potential New Members.
Save the date for Bid Day!
Bid Day is Thursday, August 31, 2023 and alumnae are invited to attend! An invitation will be sent via email as we get closer to the event, so please ensure you have updated your email address and preferences in Exclusively Xi. If you are interested in financially supporting our re-establishment efforts, please consider giving at the following levels.
$25: Sponsor pink roses for the Preference and Pledging Ceremonies
$50: Sponsor a Charter Pin and New Member workbook for a New Member
$100: Sponsor a Bid Day gift package for a New Member
If you are looking for more ways to stay connected to Alpha Xi Delta as an alumna, please explore the items listed under the "Alumnae" menu item on our website.