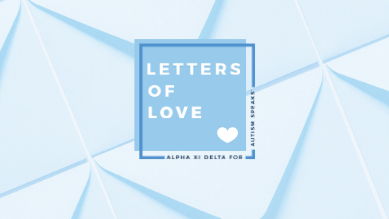 Letters of Love is an online awareness and donation philanthropy challenge for all active and dormant chapters that runs during November.
Suzanne Wright, co-founder of Autism Speaks, lost her courageous battle with pancreatic cancer in 2016. It is in her memory and honor that Alpha Xi Delta has dedicated this campaign.
Mrs. Wright had a love of the written note. Her beautiful, blue handwritten script graced the bottom of many beautifully written letters of thanks. Thanks that were given for helping to spread her story, which became the mission of Autism Speaks. Mrs. Wright's story was that of a grandmother trying to make a difference for children like her grandson with autism, but we each have our own unique story to tell.
As Alpha Xi Deltas we have a variety of reasons for supporting Autism Speaks. Some of us are mothers, sisters, grandmothers, family members or friends of children with autism. Some of us are teachers, researchers, doctors, therapists, social workers or other professionals whose careers are intertwined in the autism community. And of course, we also have Sisters who do not have a personal connection with autism before joining and yet still share Mrs. Wright's and Alpha Xi Delta's passion for our philanthropic mission.