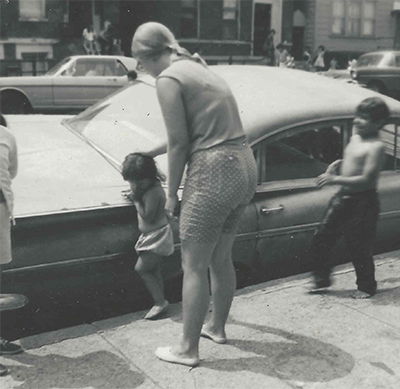 I was initiated at Lambuth College in Jackson, Tennessee, and I transferred to Memphis State University for my junior and senior years. Now, Lambuth is actually a satellite of the University of Memphis! I was awarded the Kuechenmeister Scholarship and sang a solo for the memorial service at National Convention in Sun Valley, Idaho. I remember having a wonderful conversation with Dr. Van Buskirk as we waited for the 5 or 6 passenger plane shuttle from Denver to Sun Valley. It was at the Convention I learned the word "esoteric"!
I rode a bus from Memphis, Tennessee, to Hollywood, Florida, for the next Convention. As a part of Alpha Xi's philanthropy, four Alpha Xis were selected to spend the summer of 1969 living and working from Howell House, a community center or settlement house in Chicago's Pilsen neighborhood. What a special experience that was! We each ran a summer camp program on a neighborhood street...cooling off with the children in the spray from a fire hydrant, chaperoning 20 or so children on field trips all over Chicago traveling by subway, building a playground on a vacant lot, and getting to know the children's families.
Almost 40 years later, I was in Chicago and asked the concierge to call a taxi to take me back to see the Pilsen neighborhood. Urban renewal had improved the looks of the neighborhood, but I hoped the families I served were not displaced. As a young adult I got to visit Fraternity Headquarters in Indianapolis while serving on the panel that selected the recipient of the Quackenbush Leadership Award. I have spent my life serving children, as an inner city teacher, as a live-in houseparent at a group care facility for abandoned and abused children, and in management of military child and youth programs. In 2010, I retired from HQ Navy Child and Youth Programs where I spent 10 years traveling all over the world to Navy bases inspecting Child and Youth Programs and training managers of those programs.
University of Memphis Alpha Xi Delta alumnae meet quarterly for lunch at a selected restaurant. What a joy it is stay connected with older Alpha Xis, some who served as our advisors when we were students, and younger members who were initiated in the last group of Beta Omegas.
- Submitted by Bette Eppes Colter, Lambuth '66
Photo above: Submitted by Bette from her time working at Howell House in Chicago.