Alpha Xi Delta Returning to UGA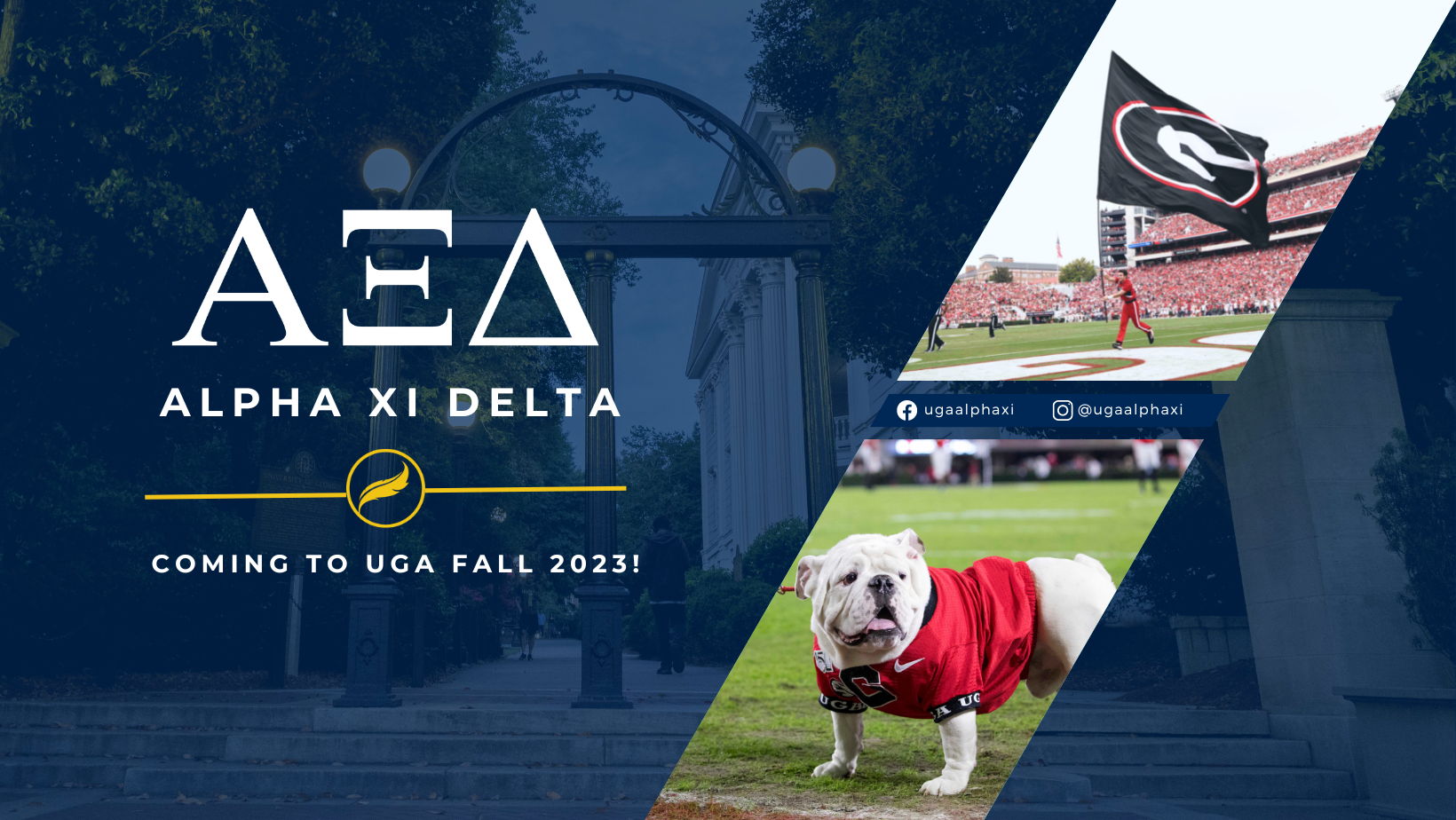 Athens, GA – Alpha Xi Delta Fraternity proudly accepted an invitation to reestablish its Gamma Upsilon Chapter at the University of Georgia (UGA) in the fall of 2023.
"We are thrilled to bring the Gamma Upsilon Chapter back home to UGA. The fraternity and sorority community is flourishing at the University of Georgia, and we look forward to welcoming new members into our Sisterhood this fall," said Elysia Gallivan, Alpha Xi Delta National Executive Director.
Alpha Xi Delta staff and volunteers will hold meetings with campus professionals and student leaders this spring. A full, Fraternity-coordinated reestablishment effort will occur this fall semester, followed by a five-year period of extra care as this new chapter's success is fostered and assured. Alpha Xi Delta will be the 20th National Panhellenic Conference sorority at UGA.
Located in Athens, Georgia, the University of Georgia has more than 40,118 students and 10,856 faculty and staff. As the birthplace of public higher education in America, the University of Georgia is inspiring the next generation of entrepreneurs, researchers, and informed citizens who will change the world. For over 235 years, UGA has been engaged in a mission of leadership and service in the state of Georgia.
Updates about the reestablishment process at UGA will be posted on Instagram and Facebook and Alpha Xi Delta's website. Alumnae who are interested in volunteering with the reestablishment are encouraged to fill out a Volunteer Interest Form. Questions about Alpha Xi Delta's return to UGA can be submitted via our Contact Us form. Please select "University of Georgia Reestablishment" for the subject line so that your question can be directed to the appropriate department.
About Alpha Xi Delta
Founded in 1893 at Lombard College, now Knox College, in Galesburg, Illinois, Alpha Xi Delta inspires women to realize their potential by providing opportunities for Sisterhood, leadership, knowledge and service. The national women's fraternity has more than 160,000 initiated members and chapters on 130 college campuses.