Zooming In: Serving Alpha Xi as a Volunteer During the Pandemic
When I began the role of Area Facilitator, I knew it would be different from the previous roles I have had… I knew there'd be challenges and learning curves… but I didn't know I'd be navigating a new role AND a whole new world amidst a pandemic. When I reflect on the last year of the COVID-19 crisis, I know I am not alone in sharing some of the feelings I had: fear, frustration, sorrow, even anger at times. I also know I am not alone in having feelings of hope, love, and courage that enabled us to progress through what was, for many, one of the hardest years of our life.
To prepare for this blog post, I looked back on those early months and found emails. One in particular stood out. It was the official notice on April 9, 2020 sharing that National Council had approved my appointment as Area Facilitator and that our trainings in-person were to be moved online, along with the news Volunteer Leadership Conference was cancelled. In the thread, I saw my note back to Courtney Fluty accepting the role. I included in the email: Sending courage, graciousness, and peace right now. We can use as much as we can get. I also said it in the email then, and I will say it again now—it is hard to believe this is our reality right now! I had no idea then how different our realities would continue to be for the next year+.
I also didn't know a year ago how incredible it would be to see the impact of working together to create, adapt, and support each other through our Sisterhood. The lessons this past year have been hard, there have been shadows that seem to stick out more than the sunshine sometimes, but we all know there were bright spots—for me, a bright spot has been serving in this role. Others stick out like the new members coming in and finding the support they need now more than ever, like the meetings that connected humans across space and time that normally would never have happened, like the competencies developed in students and professionals utilizing tools more readily for communication such as Zoom, Microsoft Teams, and more.
So time has passed, it has been about a year, and I wish I had done more to support my chapters, my Sisters, and others in my life. At the same time, I am proud of work that has been accomplished and perseverance that has been demonstrated by so many in our organization.
My why for volunteering is simple—I believe it is my responsibility to provide support and give back to an organization that has facilitated me realizing my potential throughout my collegiate years and still now as a professional lucky enough to have a career in higher education. The purpose in this "work" is finding an opportunity to bring into living reality the Sisterhood of women. In other words, this time volunteering is an exemplification of our values and our Symphony. Instead of just saying it; I am doing it.
I have learned a ton while volunteering and in general during the pandemic. The learning opportunities throughout this time have been more plentiful, more fast-paced, and much more challenging, I'd say, mostly because I am a social person who believes intensely in the connection we have with other humans and the deep learning that comes from lived experience and receiving feedback. I also believe that our experience as Alpha Xi Deltas, and really for lots of sorority members, is highly relationship focused, and frankly, THAT is just plain harder (and some may say impossible, but I think we've proven that wrong) via the online space. As an Area Facilitator with chapters hours and, in some cases, states, away, the reality is I likely would not have spent lots of in-person time with the Chapter Advisors or collegians I get to work with in "real life" any way. That said, opportunities like Area Wide Training where we would have come together were missed out on – certainly with an effort to still accomplish the outcomes we would have had in-person, online.
I have learned not to take things for granted moving forward. I know how much more valuable the in-person stuff truly is now, having seen first-hand what happens as an outcome of programs meant to have those deeper connections that are forced online without any human "touch".
I've learned that not being in person makes hard conversations even harder. I've also learned that certainly doesn't mean they shouldn't happen, though. We can and should do hard things.
Zooming out now, I hope, on all of this, I'd like us to recall some key lessons. Starting off with--mute yourself. Also, unmute yourself. Turn your camera on and direct your attention to the meeting/the humans you are interacting with. There is sunshine in the struggle and it helps to find it, reflect on it, and live in it. There is growth from the challenge—as I like to say, wiggle around in the discomfort and see how you can grow and make others around you grow, too. That is what I will continue to do as a volunteer with Alpha Xi Delta and in my life, every day, pandemic or no pandemic.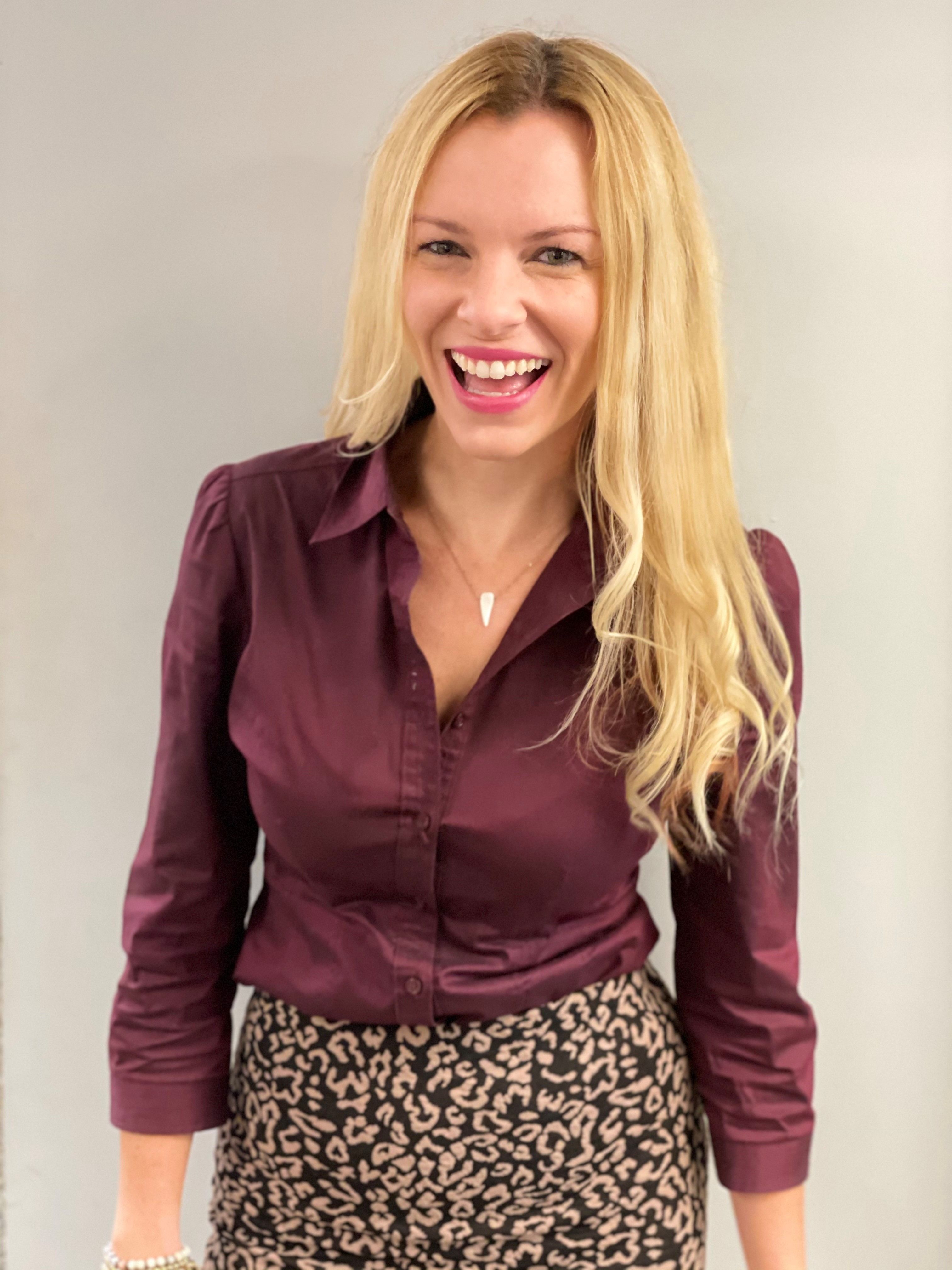 About the Author:
Katie lives every day full of energy, inspired to enable those around her to find their purpose and chase it with all they've got. She lives her values every day while serving as executive director of New Student Transitions and Family Engagement at Florida Atlantic University (FAU). Katie completed her Ph.D. in December 2017, has two master's degrees and an undergraduate degree in Criminal Justice. She is associate graduate faculty at FAU and has taught in the Leadership Studies Minor and Higher Education Leadership graduate courses. Katie is an Area Facilitator for Area II with Alpha Xi Delta and recently served as Chapter Advisor for the Theta Iota Chapter. She is the chair of the First and Proud Alumni Network and teaches group fitness at FAU and barre3 Boca Raton. Katie lives in Boca Raton with her husband, Mike, and their two fantastic fur babies, Charlie and Franklin.