Symphony in Action: Victoria Marsh
Growing up as a dancer the concept of Sisterhood was ever-present. Sisterhood was at play in my first dance studio. Sisterhood was another girl grabbing my hand when our dance teacher told us to partner up and I was by myself. Sisterhood was another dancer encouraging me to choreograph a solo and teach it to a full class the following week. Sisterhood, the power of selfless young women, was something that I always knew to be real. Unfortunately, as I got older I came to realize that it wasn't always enough for me to be a fellow woman, navigating the world. It was in those awkward years of growing up that I began to feel different, truly different. I didn't understand it. When I was younger, girls would play together and think nothing of outward appearance but as I got older, my Blackness came to the forefront of most discussions. Sometimes it came in the form of my white friends looking at each other awkwardly when someone made a joke about my skin color or hair texture. Other times it came in the form of everyone looking at me when topics concerning slavery or segregation were brought up in class. Like most Black people in predominantly white schools, I adapted. I found comfort in honors programs and the fine arts department but didn't feel entirely supported by my peers. By the time I graduated high school, I had a solid group of friends and a wonderful family to rely on but I could never find the Sisterhood from my childhood. In the years since I was that little girl in my studio, much had changed. For instance, my interests shifted from dance to writing and I began to think about a career within a women's magazine. I knew that I wanted to empower women and I could think of no better way than to be a part of a space that serves to give women a sense of community. Despite the lack of Sisterhood that I felt in my teens, it was not lost on me that such unity was one of the most valuable bonds that women could share. My career interests ultimately led me to Elon University. The smaller classroom environment and emphasis on academic rigor were key to my ideal college experience. What led me to my sorority was the Sisterhood I once knew and wanted to find again. A part of me worried that it would be challenging to go through recruitment as a Black woman but another part of me knew that if I was meant to have a place in a Greek organization then I would.
My freshman year was riddled with health issues, anxiety, and stress that would distract me from pursuing a place in a Greek organization. By the time I moved back home that summer, I was ready to give up on ever joining a sorority. I had already accepted that it just wouldn't be a part of my college experience. When I returned for my sophomore year I knew that I wanted to get involved on campus but my shyness kept me from pursuing most things.
It wasn't until a certain page popped up on my Instagram feed that I started to find myself again. The account was for my university's chapter of Her Campus publication. I applied for an open position and started to write about women's health and wellness. I brought awareness to endometriosis, a health issue that many women, including myself, face. I took my experience as a Black girl unable to find her makeup shade and wrote about the value of inclusivity in the beauty industry. These were things that I would've never discussed on a public platform but embraced this time around because having those conversations brought me back to life. The team was a sort of Sisterhood and coincidentally it would also introduce me to a strong sorority woman on my campus. One of the girls on the team ran an Instagram account that advocated for positivity and friendship and she asked me to be an ambassador for it. I was featured in posts on her Instagram page and she didn't select photos of me with straightened hair nor did she manipulate my photos with filters that washed out my complexion. Instead, she posted photos that truly displayed my natural features and though she might've only posted those photos because she thought they were beautiful, it did wonders for my self-esteem. Not only would she later end up greeting me at the door during the preference round of recruitment but she would also become one of my favorite Sisters. She uplifted me as a beautiful and bright-minded Black woman and welcomed me into a sorority of women who wholeheartedly did the same. If it wasn't for Alpha Xi Delta, I wouldn't have found the women that I lovingly refer to as 'my people'.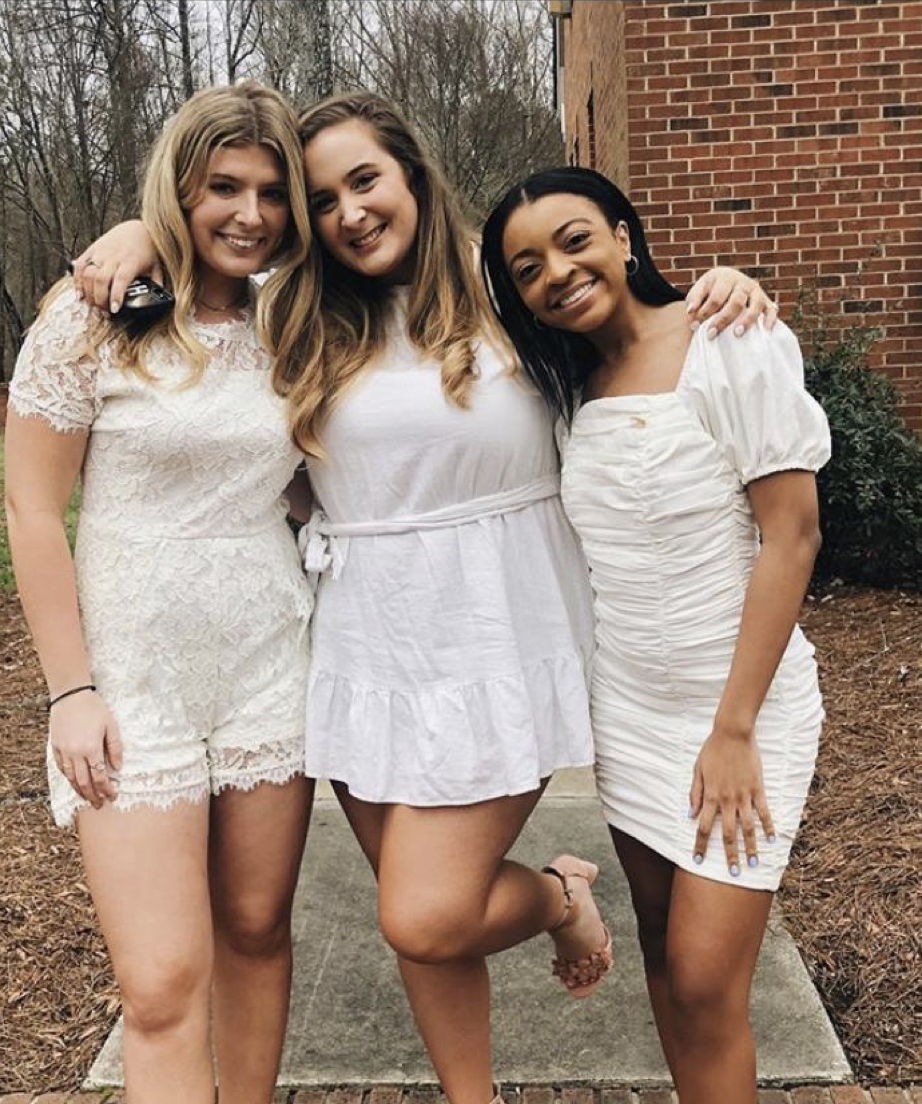 [Pictured: Me with two close friends and fellow members of the Theta Nu chapter]

One of the highlights of my time with Alpha Xi Delta has been our philanthropy events. I didn't understand the magnitude of Autism Speaks before sorority recruitment. Likewise, I didn't realize how needed it was to bring awareness to people who are on the spectrum and ensure that they are allowed to shine just like those who are not on the spectrum. There is absolutely nothing wrong with being autistic and becoming a member of my sorority gave me the chance to support this cause. One of the lines in the symphony is "An appreciation of real merit and worth" and that could not be more true for the Theta Nu Chapter. Here, we value generosity, hard-work and genuine kindness over all else. Our annual Xiti dinner and the Autism Speaks walk have not only brought me closer to my Sisters but it also brought me closer to this philanthropy and for that, I am forever grateful.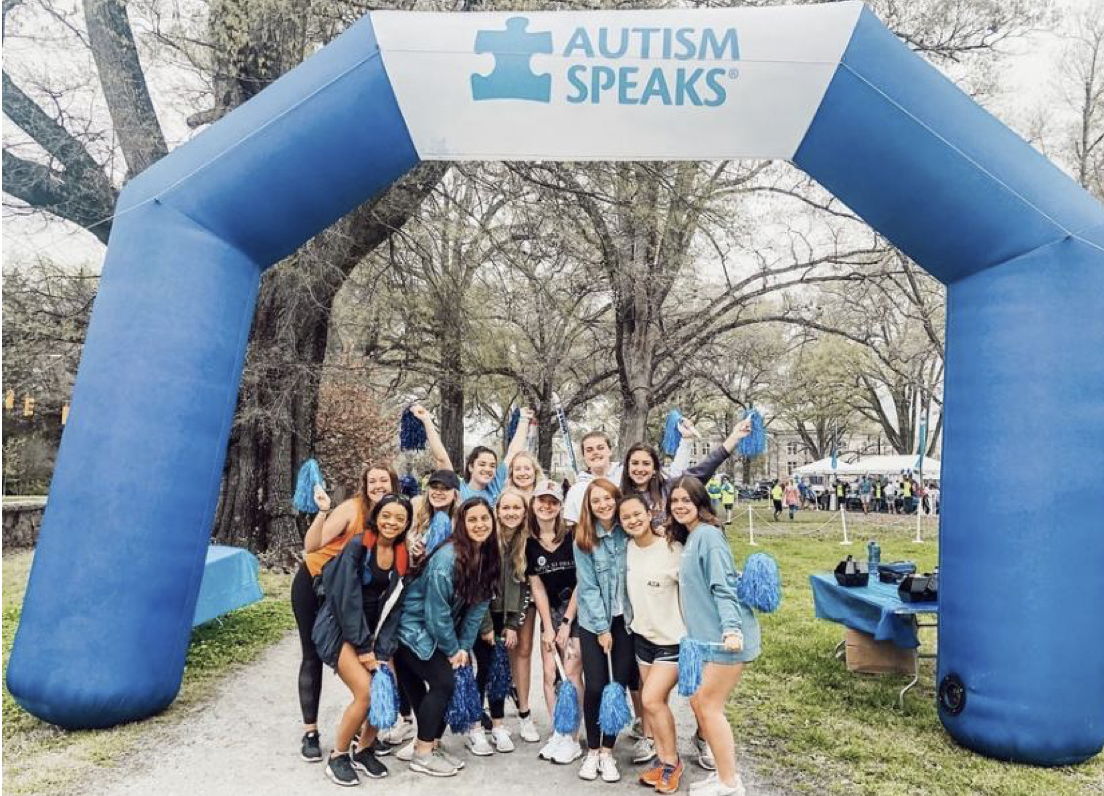 [Pictured: Me with other Sisters of the Theta Nu Chapter at the Autism Speaks Walk]

Coincidentally joining the sorority reignited my love for dance. Receiving the opportunity to participate in my school's Greek Dance competition brought back so many childhood memories of being in the dance studio with my friends. Just like then my Sisters created inside jokes, incredible routines, and genuine bonds. The best part was that it wasn't just me who brought back my love for dance but it was my Sisters as well. They cheered me on each time we rehearsed choreography in smaller groups and never failed to encourage me when I was placed toward the front of a routine (and nervous about it!) I thought I would never dance again and feel that same sense of Sisterhood but becoming a member of Alpha Xi Delta restored my passion.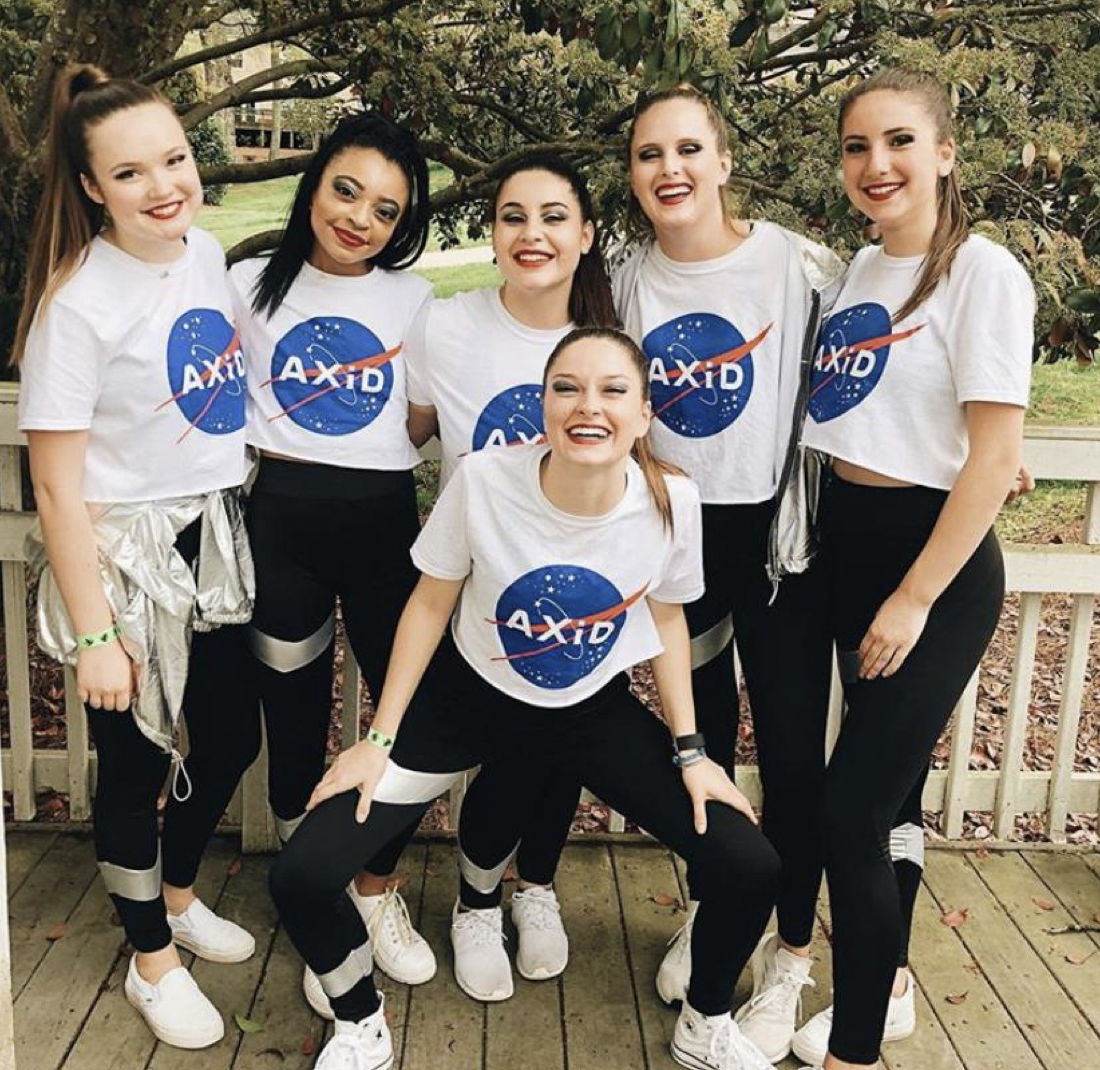 [Pictured: Me with other Sisters of the Theta Nu Chapter before the Greek Dance competition)

I don't say any of this because I am unaware that Greek life can be a source of racial injustices. I have personally heard stories of fellow Black women feeling mistreated by the recruitment process at their schools and mine as well. The magnifying glass that is now being used to look at exclusion in Greek life has empowered many women to share their stories. Mine serves to say that I found a true Sisterhood and so should every other Black woman and woman of color. We deserve it as much as any other group of women. I have found a place where I can be myself without fear of judgment or criticism. I have found a place where I can discuss my experiences as a Black woman and know that the women around me are willing to listen. It worked out for me but unfortunately, other women of color can't say the same. Instead, they dropped out of traumatizing recruitment processes and non-inclusive organizations without ever finding that comfort. I can't lie and say that I didn't feel the urge to straighten my hair for sorority recruitment or that I still wish there were more women of color in my sorority but I've come to realize that many are dissuaded by the lack of diversity that they see. I have friends who are not affiliated out of a discomfort with being categorized as 'other' in a space of mostly white women. This is not a sorority or chapter-specific issue but a Greek community issue. It should not be rare or unheard of for women of color to find homes in historically white sororities. It isn't harder for us to fit in or get along with members of predominantly white sororities but such ideas have undoubtedly talked women out of signing up for the recruitment process. Non-inclusive values of 'fitting an image' or 'blending in' must be retired and diversity must be embraced instead. Until that change occurs in all organizations, the Greek community will always have more work to do.