My life was quite a challenge after I moved from St. Louis, MO to New Orleans, LA. We moved the summer of 1958 right before entering my junior year of high school. My parents were involved in a motel business and were not very supportive of me attending college, especially away from home. I, on the other hand, had goals. I wasn't very active my junior year of high school in New Orleans but I did manage to plan my courses around college prep. The following summer of 1959 I began to plan financially to attend college and started a job where I met the love of my life, Joe, who was attending Louisiana State University. I now knew where I wanted to go to college. I worked hard my senior year of high school and completed all college prep courses. During that year, I visited the campus several times attending functions with Joe, who became my husband. He was a member of Sigma Chi and during functions I was introduced to many girls who were members of a sorority. I, however, didn't have much hope at that time of being a member of a sorority. I was just hoping to attend the university. Joe and I worked together the following summer and Joe told me about recruitment week and I announced it to my parents, who much to my surprise, assisted me financially and approved of my attending LSU. I was able to participate in recruitment week and, after many invitations to several sorority rush parties, I choose Alpha Xi Delta because of their friendliness, their welcoming attitude, always knowing my name and remembering my goals. I was also impressed by the sweetness of their attitude towards my background and their willingness to answer each and every question that I asked.
Why did I choose Alpha Xi Delta? It's simple. They accepted me for who I was and I felt at home with them in a place that was going to be my home-away-from-home. They were interested in my goal to study Education and were willing to assist in helping me plan my courses. The sorority was small in numbers at that time and I felt such a closeness to everyone that I met, even the other girls that were also candidates for pledging. It was a very happy day when I received my invitation to pledge Alpha Xi Delta.
My third semester at LSU, I was chosen to be Treasurer and I was very proud to serve in that capacity. Over the years, I have kept in touch with several Sisters and have been active several times in local chapters. I will always have fond memories of the joy, encouragement and love of my sorority Sisters who helped me through my two years at LSU and gave me the courage to tackle my goals.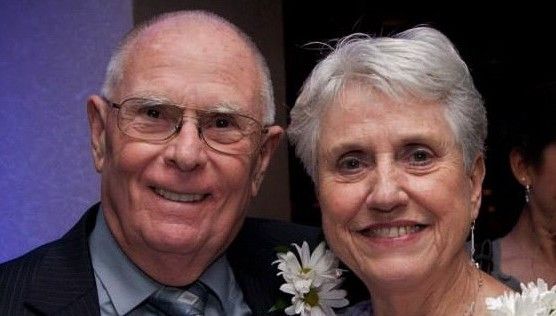 This year Joe and I celebrated 57 years of marriage. We have 4 daughters, 13 grandchildren, and 13 great-grandchildren. I am a cancer survivor and have recently within the last two years authored three books which was a long-time goal of mine. I have been very blessed in life and, like I said before, have very fond memories of my days at LSU and being part of the Alpha Xi Delta Sisterhood.
Written by Linda Allard, '61 Louisiana State