Epsiode #2: Pearls, Diamonds, Sapphires - Oh My!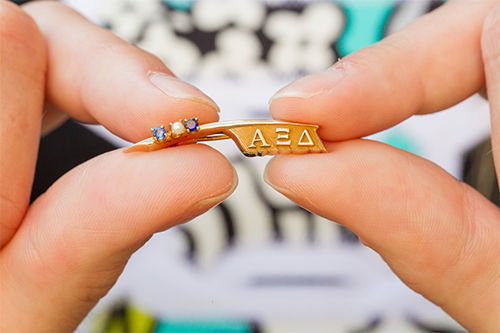 In our second episode of our 125th podcast, we're discussing all things Quill badge. Did you know Founder Cora Bollinger Block was the first person to add jewels to her Quill badge? Or, how about that it takes 35 individual steps to create just one jeweled Quill badge?! We even learned a little history behind our own personal Quill badges and who produced them. We're discussing the answers to these questions and more on episode 2. To listen to the podcast, click the play button below!
SHOW NOTES
We discussed the many options you can use to customize your Quill badge, including dangles and guards.

Shop Herff Jones, our official jeweler, for Quill badge and accessories.
Make plans for your Quill badge by printing out this document to designate where your Quill will go once you enter Chapter Eternal.
Why do badges end up on eBay? We discuss this in the podcast, but there is also an article published in the spring 2000 issue of The Quill, written by Past National President Deanna Wollam Detchemendy.

GUEST STARS
Nancy Mancuso, Director, Sorority and PFA Business, Herff Jones
Nancy has worked with Alpha Xi Delta since 1989 to provide Quill badges to our Sisters. Although Herff Jones has been in business since 1920, they did not become our official jeweler until 2005. She provides some great insight into the production process of our Quill badge. Did you know every stone in our Quill badge is hand-set by a master stone setter? Every jeweled Quill takes approximately 35 individual steps to manufacture just one badge! Nancy is a Panhellenic sister who is a member of Tri-Sigma.
Paige Faries, Western Kentucky '71
Paige is a long-time Alpha Xi Delta volunteer, member of the Tucson Alumnae Association and is most known for her extensive Quill collection she brings with her to Alpha Xi Delta events. Paige rescues Quills from eBay as she is able, resulting in a collection of more than 26 Quill badges!
Frequently Asked Questions Photo Examples
Still have a burning question about a Quill badge? Email us at fhq@alphaxidelta.org.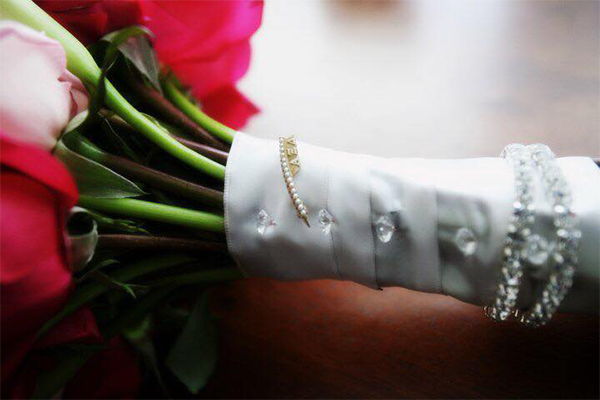 Wedding Bouquet Incorporating a Quill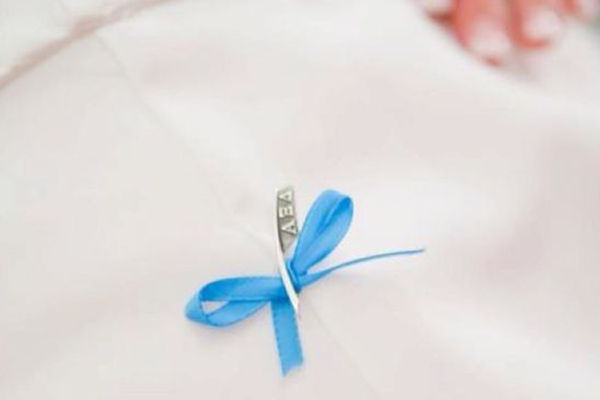 Something Blue Incorporating a Quill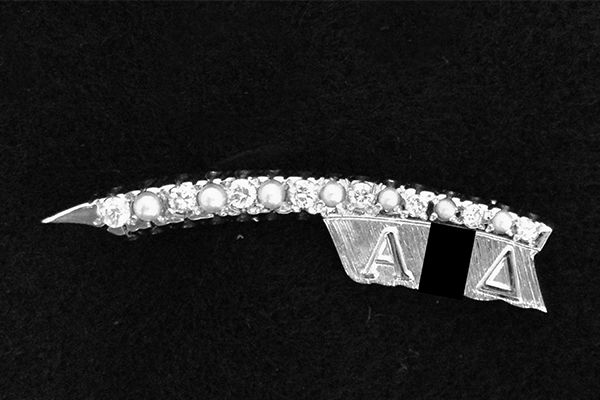 The Proper Way to Show Mourning
Examples Non-Traditional Quill Badges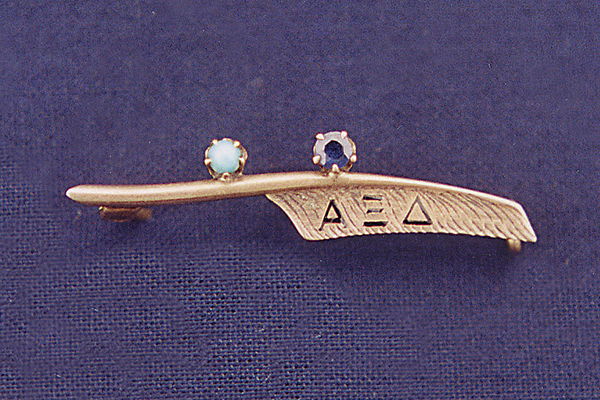 Quill Featuring Turquoise and Sapphire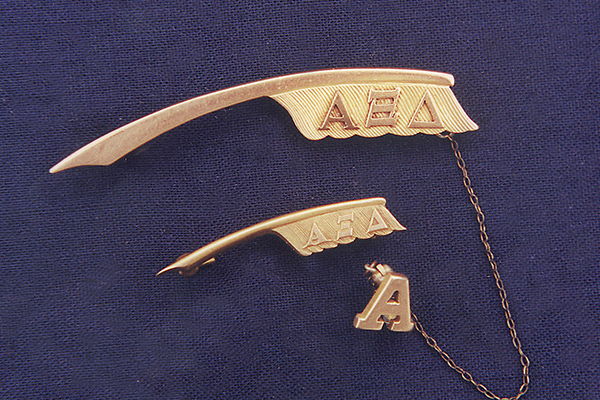 Oversized Quill Badge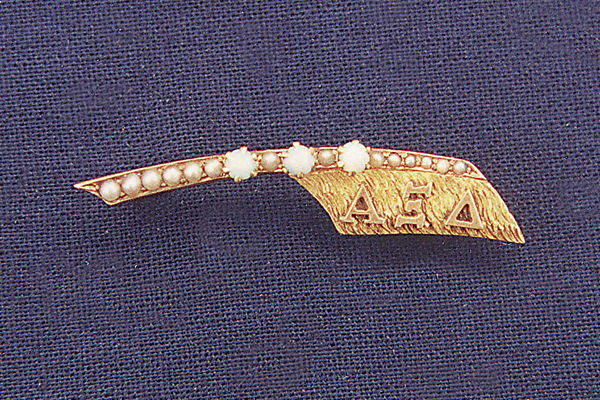 Quill Featuring Opal Stones
Footage from the Herff Jones factory where a Quill badge is being engraved with a member code.
SHARE YOUR STORY
At the end of each podcast, we're sharing stories submitted to Sisters in honor of our 125th anniversary.
Why stories? Alpha Xi Delta would not be the bold, inspiring organization it is today without our Sisters who have shaped our dear Fraternity into a home for more than 175,000 women. Every member is a unique piece that collectively makes up the history of Alpha Xi Delta. To celebrate our 125 years of history, Alpha Xi Delta wants to share the stories of our members, our history.
This episode's story was submitted by Sue "Sube" Felton Nakanishi, Baldwin Wallace '78

"I was lucky enough to have been assigned to Klein Hall. The Beta Kappa Chapter resided above me on the 2nd floor. At that time, I was clueless to the fact that my mother had been an Alpha Xi Delta at Ohio Wesleyan. I knew she had been in a sorority. Excuse the pun, but, at that time, it was all Greek to me! Her only advice the day my parents dropped me off at Baldwin Wallace (and me not knowing anyone...yet), was to consider joining a sorority to make friends. By the end of my first weekend in college, I had met Mike, Pig, Claudia, Dippy, Diane, Lindy, Bonnie, and Pam! It was if we had always known each other. I remember meeting a few alumnae during homecoming weekend and had the same feeling.
I will never forget asking my mom during recruitment (known as rush at that time) if one of the sororities on campus was hers. She only said yes, but would NOT tell me which one. I honestly never knew until I called her the night I had accepted Beta Kappa's bid. Silence. Mom? Next thing I knew, my Dad was on the phone explaining to me that my mom was crying too hard to speak. Tears of JOY!!! And what a wonderful surprise to see my mom standing before me wearing a white dress during my initiation! Best decision I ever made!
My mom sure was right. Little did I know then that my Sisters (including the ones that followed: Jo, Janet, Linda, Marva, Dawn, Kathy, Debbie, Julie ...) would be my FOREVER friends!"
To submit your own story, click here. You may be featured on an upcoming episode!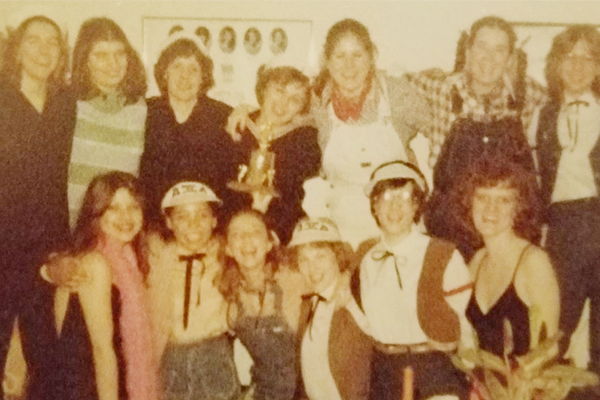 Photo submitted by Sue from her time at Baldwin Wallace