Undergraduate Giving Challenge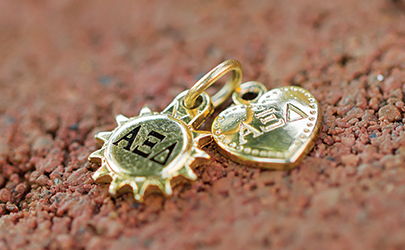 The Undergraduate Giving Challenge is your opportunity to make a mark on Alpha Xi Delta as a collegiate Sister. The Alpha Xi Delta Foundation is challenging our undergraduate members to make a gift of $18.93 to the Foundation.
With a gift of $18.93 or more to the Undergraduate Giving Challenge, you become a member of the Heart Sunshine Circle, an annual giving circle exclusively for undergraduate members. As a token of appreciation, you will receive a special recognition dangle to wear on your badge (sunburst dangle shown left) with your first donation of $18.93. Each collegiate member is encouraged to give each year, while in college, to remain a member of the Heart Sunshine Circle.
For UGC questions, please email Elizabeth de Jong, or check out our frequently asked questions.