The Kindly Hearts Campaign is a year-long campaign focused on service and fundraising to support our communities in some of the areas most directly affected by the COVID-19 pandemic.
The Campaign will run during the fall 2021 and spring 2022 semesters. As much of the U.S. and the world continues to cope with, and seek to recover from, the COVID-19 pandemic, Alpha Xi Delta is galvanizing our membership around this shared experience and deploying our time, talents and treasures to serve our local communities that are in need.
To support the Kindly Hearts Campaign, Alpha Xi Delta chapters and alumnae associations create project plans within one or more of the following areas of focus: supporting students, food insecurity, and basic needs shortages. Below is more information about each area of focus and examples of ways our Sisters can help.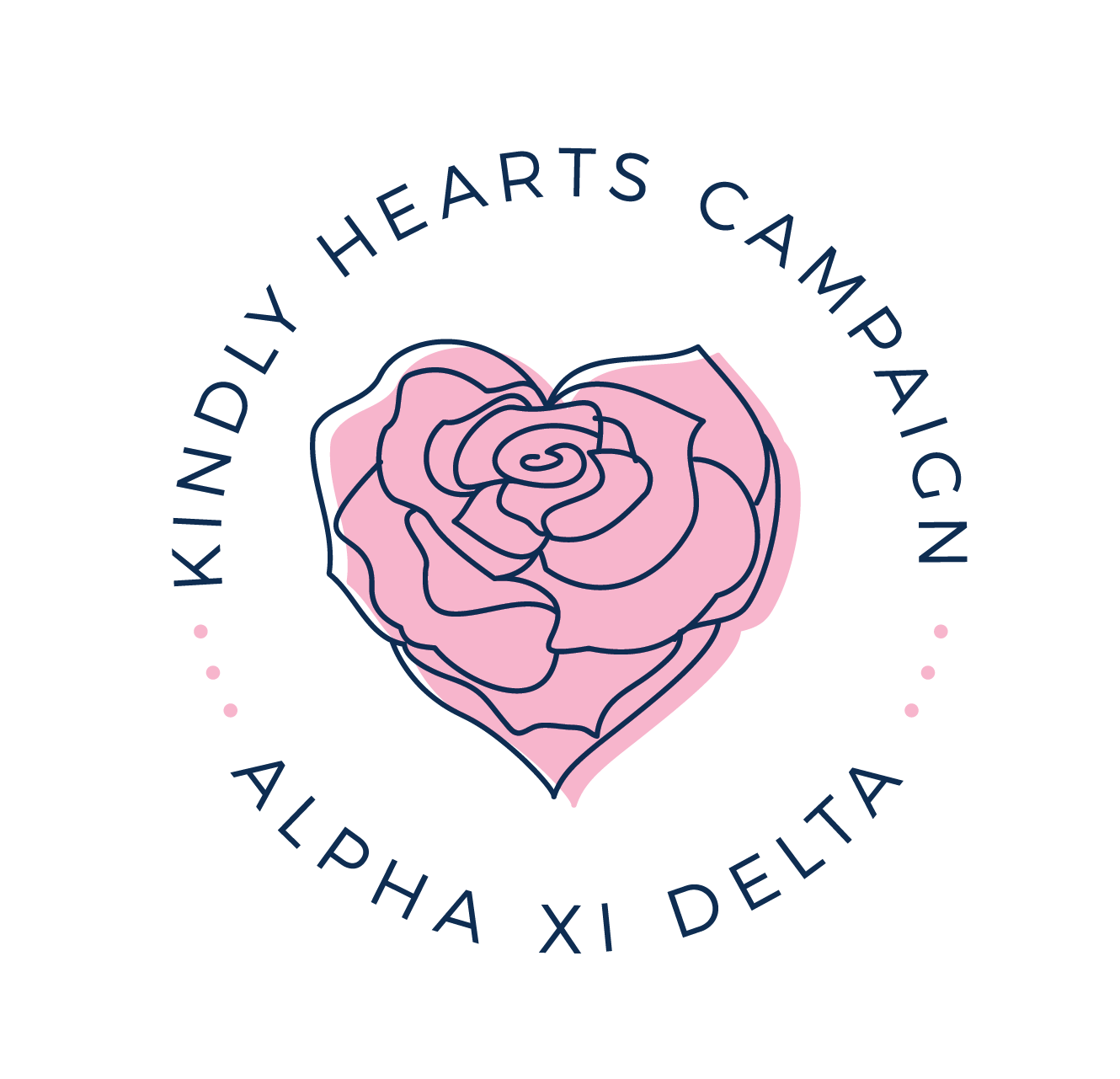 Supporting Students
Communities In Schools (CIS) reports that in the past year, an estimated three million students in the U.S. have gone "missing" from virtual school during the COVID-19 pandemic. CIS affiliates have cited the need to support students by hosting financial literacy, reading, and stress management events, and by delivering food, school supplies, and encouraging messages. (Source) Some ways to help support students:
Host a Supply Drive for a Local School.


Start a Fundraiser.

Make giving a little competitive and start a fundraiser! Get a team together with your coworkers or employees, sorority Sisters, neighbors, or friends and challenge yourselves. Can you raise enough to provide for a student? A whole class? A whole school?



Volunteer Your Time.

Your time and talents are invaluable. One-to-one mentoring, tutoring and providing academic support are ways to make a positive impact.
Food Insecurity
In 2019, before the start of the pandemic, more than 35 million people, including nearly 11 million children, were food insecure. Feeding America projects that 45 million people, including 15 million children, may have experienced food insecurity in 2020. Recovery is not immediate with projections that 42 million people, including 13 million children, may experience food insecurity in 2021. (Source) Examples of ways to help include:
Volunteer Your Time and Talents.

Sorting and packing. You can keep the shelves stocked by assembling boxes of food for distribution.
Assisting at mobile pantries, drive-thru pantries, and no-contact distributions.
Prepare food in a Hunger Relief Kitchen.
Delivering meals. (ex. Meals on Wheels)



Volunteering From Home.

Hold a virtual food drive to raise funds for your local food bank.
Hold a traditional food drive to help keep their shelves stocked.
These can be traditional or themed around the most needed items, ex. Great Pasta Push, providing specific foods for Thanksgiving meals, etc.
Other Basic Needs
If a chapter or association identifies another pressing area of unmet basic needs, we recommend they discuss their preferred option with their Philanthropy Territory Director, National Council designee or a similar advisor to be vetted for suitability and proposed scope of impact. Examples of ways to help could include:
Hosting basic supply drives.
Support the National Diaper Bank Network.
1 in 4 women have struggled to purchase period products in the past year due to lack of income. Alliance for Period Supplies is a national organization working to ensure that individuals in need have access to essential period products required to participate fully in daily life.
Socks and underwear are among the most requested, but least donated items at homeless shelters.
Resources for Members and FAQ
We will be releasing more details and resources in the coming weeks. If you have any questions that are not addressed on the Frequently Asked Questions page, please email us at fhq@alphaxidelta.org or fill out the Contact Us form on our website. Your question will be directed to the appropriate contact upon receipt.

If you would like to share about the Kindly Hearts Campaign on your social channels, we have templates set up in Canva that have multiple options, with some customizable designs, that you can download. You will need a Canva account to edit these designs, and an account can be set up for free at Canva.com.
We also have files for graphics to use on Facebook, Instagram and Twitter. Click the buttons below to download a zip file, pick your favorite design and share on your social channels.