We're celebrating Cora Bollinger Block's birthday September 13-15 with Cora's Challenge, Alpha Xi Delta Foundation's Day of Giving.
Cora Bollinger Block is one of the most significant people in Alpha Xi Delta's history. Described as hospitable and interested in all things for the betterment of humankind, Cora was part of the committee that presented the plans for the Fraternity to school officials. It was her "clear thinking and vision" that made the presentation successful. She served as the first Chapter President of Alpha Chapter and chose, with Lucy Gilmer, the pink rose as Alpha Xi Delta's flower.
Cora was elected the first National President in 1902, and the first grand council meeting was held in her home. She led plans for the Fraternity's expansion, personally installing the Beta (Iowa Wesleyan) and Gamma (University of Mount Union) Chapters and rewrote parts of the Ritual. She also presided at the first National Convention in 1903.
Simply put, without Cora Alpha Xi Delta would not exist! The Foundation honors her birthday every September 14 with a day of giving. Funds raised through Cora's Challenge directly support programs that empower and prepare the next generation of women to be leaders. When you support Cora's Challenge, you are helping fund these essential programs which make a difference in the lives of our Sisters that are not fully covered by dues and fees.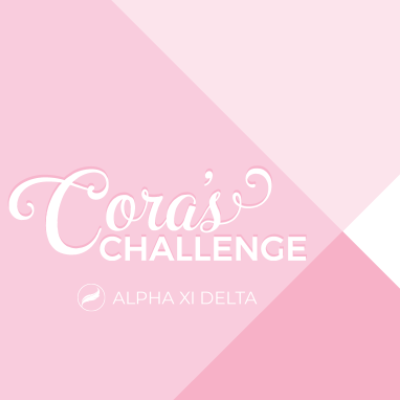 How You Can Participate
Mark your calendar - Cora's Challenge will go live on September 13 and will close on September 15. We'll post a link to the giving form here, social media and via email once Cora's Challenge goes live.
Use #CorasChallenge on social media, and invite your Sisters to join you in making Cora's birthday a success for the Alpha Xi Delta Foundation!

New this year - Fundraise and give to the Foundation through Instagram, Snapchat and Facebook!

Instagram: We'll add a donation sticker to our Instagram stories where you can donate the day Cora's Challenge kicks off. You'll also be able to search for Alpha Xi Delta Foundation in the list of non-profits to raise money through your own Instagram stories.
Facebook: When Cora's Challenge launches, you'll be able to give to the Foundation through Facebook and fundraise for the Foundation to all your friends.
Snapchat: The Foundation is partnering with CrowdChange to host the Cora's Challenge giving page. CrowdChange will give $1 per user to the Foundation when you Snapchat @CrowdChange with the unique user code you receive after making your gift to Cora's Challenge.

Does your employer provide matching gifts? Double your donation by asking your HR team if your company has a matching program. Here's more information about how to get matching gifts.
Cora's Challenge Resources
We've created some printables for you to use to prepare for Cora's Challenge and use for your social media posts. To download a template that you can print at home, simply click on the photo of the item you'd like to download. Instructions for how to use certain items or materials need (ex. sticker sheets) are provided on the files. If you need the latest version of Adobe Reader, you can download it for free here.
Not sure what to post on social media? Here are what some Sisters are saying. Be sure to link to the giving page and use the hashtag #CorasChallenge!
I donated to Cora's Challenge to support the Alpha Xi Delta Foundation. Will you join me?
On September 14, we celebrate Cora's birthday! Honor her by making a donation to Alpha Xi Delta Foundation.
I gave to Cora's Challenge because: (insert your reason here)