Beth's Summer Immersion Experience
After being in briefings with Autism Speaks and the Alpha Xi Delta staff for the majority of the day yesterday, we were ready to take on Capitol Hill, talk with representatives and advocate for individuals with autism.

After taking a group picture on the steps in front of the Capitol Building, we split up into groups for our representative meetings. Kylee Trout, a Sister from Kansas State University, Lindsey Eichelman, Alpha Xi Delta's Director of Administration and Events, and Bart Devon, a member of the Autism Speaks Federal Advocacy Staff were my advocacy team members for the day. Our first meeting was with Kylee's state representative Roger Marshall (Kansas) in the Cannon Building. Next we had my meeting just down the hall a half hour later. We had been briefed, we practiced our speeches - it was time to get rid of the nerves and tackle it head on!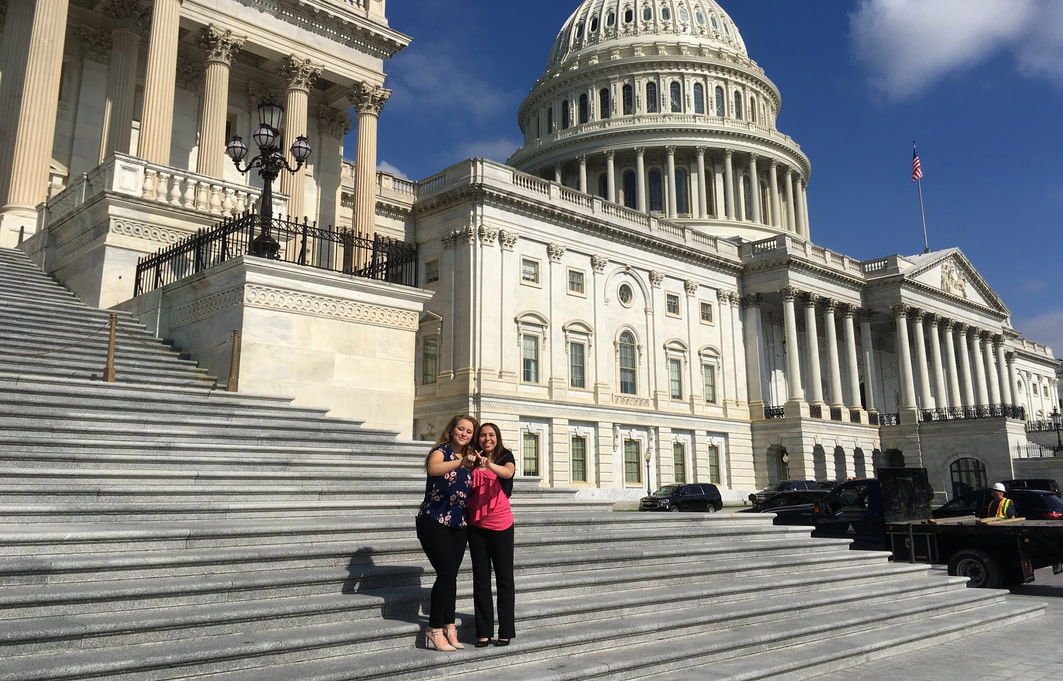 Kylee's meeting started out with an intern from Kansas State University and after some talking they found their common connection between mutual friends and family. Anybody in the midwest knows it's a small world! She explained why we were here and we were able to meet Representative Roger Marshall.
My meeting was next, as we went down the hall we discovered he had been over scheduled but we could still catch him after his prior committee meeting. So 20 minutes later, I found myself shaking hands with Nebraska's third representative, Adrian Smith and in the middle of a "walk and talk" lobby session. I had to quickly talk why I was there, lobbied the acts and bills we wanted reauthorization of, and why it was important for him to consider joining the Congressional Autism Caucus. As we walked with a purpose, I answered his questions to the best of my ability as we marched from the Longworth Building back up to the steps on the Capitol Building. Let me tell you, I only wear heels once a year and that's during recruitment - marching that in heels was a trek! It was all worth it though and at the end of the day, I felt like I nailed it.
Even through the pain, the feeling you get from accomplishing something you never thought you'd be able to do, let alone nail - is incredible. I can't wait to take on more challenges. This experience has inspired me to be a better advocate and to be more active in my vote and my voice. I hope it does for you too!
To keep up on autism advocacy or legislation, please follow Autism Votes on Facebook or subscribe to their newsletter! For a quick link, click on the Facebook link here: https://www.facebook.com/autismvotes/

Follow up note: As a result of Alpha Xi Delta's Summer Immersion Advocacy Day, both Rep. Roger Marshall (KS) and Rep. Brett Guthrie (KY) joined the Autism Caucus!
- Beth Revelo, University of Nebraska- Kearney
2018 Summer Immersion Program Participant