Alpha Xi Delta recognizes 2018 Order of the Rose, Pearl and Diamond Sisters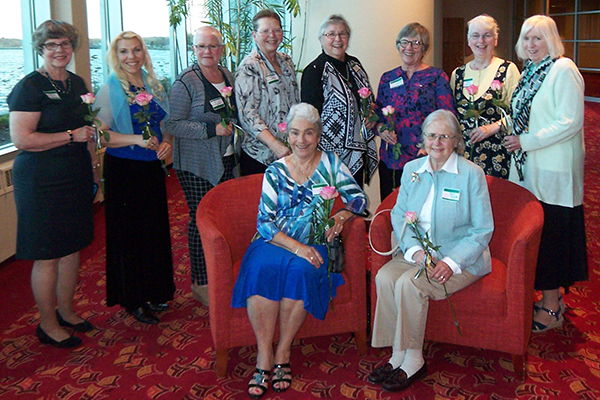 Our National Council warmly welcomes 452 Sisters initiated in 1943 into the Order of the Diamond, 1,050 Sisters initiated in 1958 to the Order of the Pearl and 2,225 Sisters initiated in 1968 to the Order of the Rose.
We hope each Sister's membership in Alpha Xi Delta throughout the past 50, 60 and 75 years has been filled with genuine, lifelong friendships, personal growth and opportunities to improve the lives of others through service.
Sisters have witnessed many changes as the Fraternity has kept pace with the times. It is our hope that recognition as an Order of the Rose, Pearl or Diamond recipient will remind each individual Sister of the part they have played in furthering the vision of our ten Founders. Their legacy continues today because of the bold and talented Sisters, like our Order of the Rose, Pearl and Diamond recipients, who have remained dedicated and loyal to Alpha Xi Delta's highest ideals.
In recognition of achieving this milestone in 2018, each Sister with a valid mailing address on file by March 1, 2018 will be sent a personalized 5x7 certificate to commemorate this special occasion. If you're denoted as lost on the above recognition lists, please contact Sarah Alice Keiser, Lifetime Engagement Manager, at skeiser@alphaxidelta.org.
Click the links below to view the list of Sisters who have reached a milestone in her membership. An asterisk (*) indicates a Sister is lost, and Alpha Xi Delta Fraternity Headquarters does not have a valid mailing address. If you are in contact with any Sister denoted as lost, please encourage her to update her information with Alpha Xi Delta.